Guiding through unprecedented innovations to reshape oncology
In the Middle East, oncology is increasingly becoming a major focus in healthcare. Today, it is the 6th highest selling therapy area and one of the fastest growing therapy areas in the region. Stakeholders today do not fight cancer, they battle oncology–one tumor, pathway or patient segment at a time. With oncology costs steadily on the rise and expectations that it will grow at a rate of 9% in the coming five years, finding ways to create and offer products effectively and efficiently is often a challenge, given existing unmet needs in cancer care and funding pathway in the region.
IQVIA's oncology solutions provide you with the insights you need to achieve your goals and drive your strategies forward. With a history of global oncology thought leadership, an extensive network of stakeholders in the region, deep expertise of the local markets, expansive oncology sales data, and extensive experience with oncology projects, IQVIA has all the solutions you need.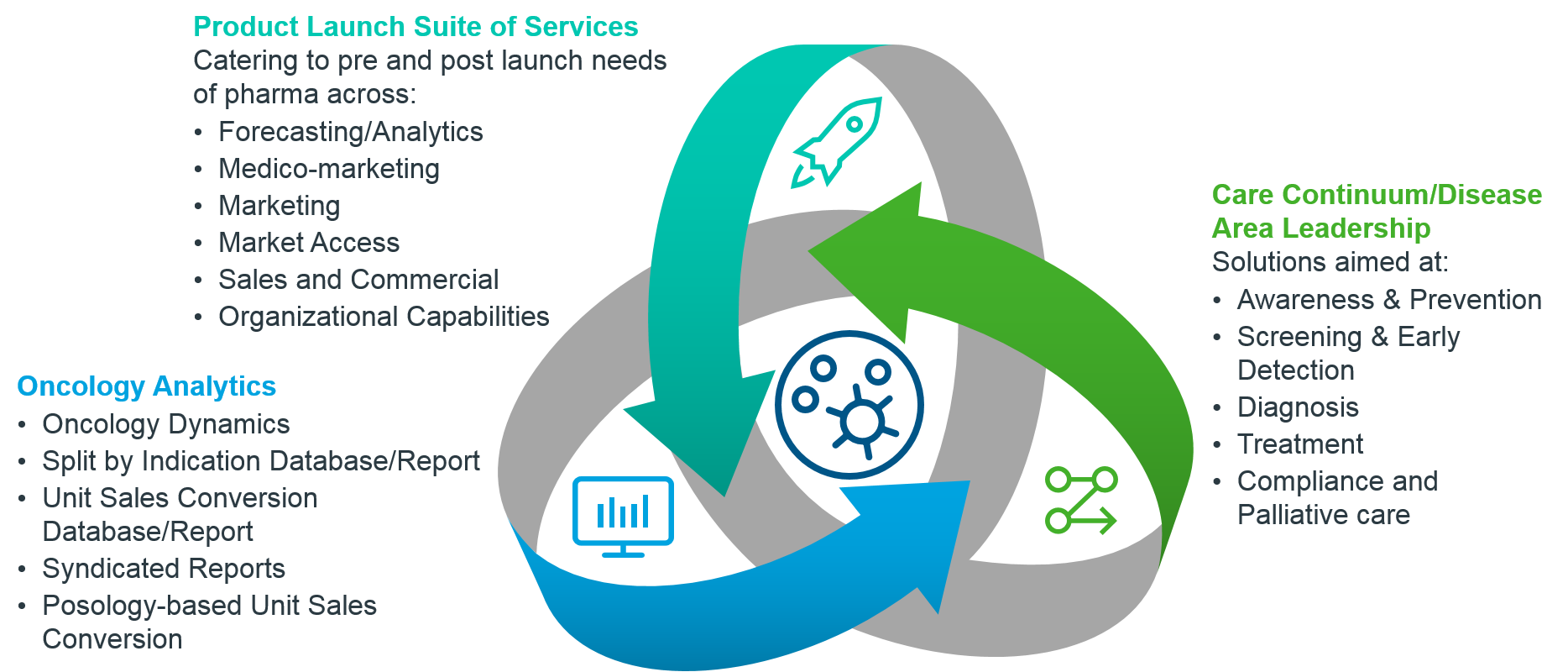 Oncology Analytics Solutions
Analytical insights for improved treatment and an enhanced patient journey
Effective cancer treatment requires clarity and reliable understanding of the disease, available options and the patient. Real-world data and evidence, treatment product analysis and a clear picture of oncology patients and patient segments provide the clarity and understanding you need to battle oncology.
Our Oncology Analytics Solutions provide you with insights you need into disease epidemiology, treatment paradigm and patient journey.
Oncology Dynamics provides quick access to real world data to unravel dynamics in sub-populations and treatment patterns. It is a broad, representative cross-sectional survey of anonymous cancer patient data.
The Split by Indication platform analyzes each product's usage across the multiple tumors it is indicated for.
Posology Based Unit Sales Conversion combines our understanding of dosing regimens, product usage by indication and IQVIA sales data to quantify patient segments utilizing the drug.
Learn more about these analytics solutions and how they can provide clearer and more reliable insights for you.
Oncology Product Launch Suite of Services
Services that guide your product to success
Launching and maintaining a successful and effective oncology product requires meticulous data collection, proper analysis and effective marketing.
Our Product Launch Suite of Services helps ensure your product's success, catering to pre- and post-launch needs of pharma. Enhance your product's performance and help it reach its potential with IQVIA's Product Launch Suite of Services.
IQVIA's Care Continuum/Disease Area Leadership Initiative
Pioneering the future of oncology
IQVIA's Care Continuum/Disease Area Leadership Initiative brings forth the big picture propositions: solutions to improve the health care system or change the way care is delivered. These solutions are aimed to reshape the care pathway or to effect a change in a specific area. Learn more about our oncology services. We are here to help.