Marla Kessler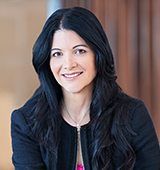 Marla Kessler is senior vice president, Strategy, Marketing and Communications for IQVIA, The Human Data Science Company, which was created following the merger of Quintiles and IMS Health. In this role, she leads the company's efforts to understand and engage clients with solutions and thought leadership that create an exceptional customer experience. Her group includes strategic analysts, communications, marketing specialists and the IQVIA Institute.
Marla served in a number of key roles at IMS Health since joining the company in 2008, most recently as global head of Marketing and Thought Leadership for Real-World Evidence Solutions. Prior to that, she served as US and EU leads for IMS Consulting Group, where she created the group's global knowledge management platform and performance management systems. Marla is a published author of many IMS Health thought leadership pieces.
Before joining IMS Health, Marla was a team leader at Pfizer Pharmaceuticals in the US Marketing department, working on a variety of marketing and public affairs strategies. Prior to that, she was an associate principal at McKinsey & Co. and an assistant economist at the Federal Reserve Bank of Richmond.
Marla holds a bachelor of science degree in Economics with honors from Arizona State University and an MBA from the Fuqua School of Business at Duke University, where she was a Fuqua Scholar.