Eric Sherbet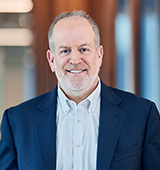 Eric Sherbet is executive vice president, general counsel for IQVIA, The Human Data Science Company™. He is responsible for the company's global legal operations, as well as compliance, privacy and external affairs.
Eric has more than 25 years of legal experience, of which 17 are in the global life science and technology industries. Prior to joining IQVIA in February 2018 , he served as general counsel and secretary at Patheon, where he oversaw the company's initial public offering and its recent $7.2 billion acquisition by Thermo Fisher.
Before that, Eric was general counsel and secretary at InVentiv Health, where he built the legal and compliance division into a global team. He also served as vice president, deputy general counsel and corporate secretary at Foster Wheeler AG and as vice president, corporate and securities law and corporate secretary at Avaya.
Eric earned his J.D. from the New York University School of Law and received his bachelor's degree in commerce/accounting from the University of Virginia. Eric started his career as a CPA at KPMG.