Jim Berkshire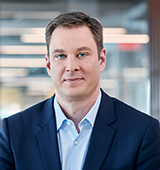 Jim Berkshire is senior vice president, Business Operations at IQVIA, The Human Data Science Company, which was created following the merger of Quintiles and IMS Health. In this role, he is responsible for driving operational excellence, productivity improvements and cost management across the organization.
Previously, Jim was vice president of Organizational Effectiveness at IMS Health, responsible for driving resource optimization and productivity initiatives, and for optimizing our organizational capabilities in the development, delivery and commercial areas. Jim also led the Cegedim integration at IMS Health, as well as technology transformation initiatives and LEAN activities from 2012 to 2017. Jim joined IMS Health in 1995 and has held operational and business planning roles at its corporate and Europe headquarters. He began his career in IT and Financial Audit.
Jim received a bachelor's degree in Economics from Indiana University.