Rob Kotchie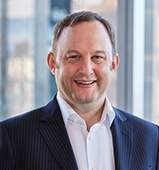 Rob leads the global Real World Evidence business for IQVIA™. He is responsible for technology and services solutions to support life sciences companies post-launch access, use, and uptake requirements. Rob manages an offering portfolio that includes use of both primary and secondary data, drawn from health care systems, connected devices, genomics, and patient-reported outcomes, and patient-connected devices.
Previously at IQVIA, Rob served as chief of staff to the CEO. He also worked in health economics and outcomes research, consulting, and commercial analytics at ZS Associates.
Rob holds a degree in chemistry with First Class Honours from Jesus College, University of Oxford and an additional master's degree in international health policy from the London School of Economics.