When there is low product differentiation between drugs in the market, the role of the consumer becomes more significant and costlier to launch successfully.
This is the fourth blog in the five blog series: Creating a framework for a successful launch. IQVIA analyzed launches globally to identify common launch challenges and pitfalls. Four launch archetypes were identified, "science sells", "market shaping", "who benefits" and "emphasize the difference", each had very specific critical success factors.
The "who benefits" archetype is identified as a drug with low unmet need in the market and low product differentiation, the critical success factors are:
Laser focused targeting (prescriber/patient)
Realistic expectations
Services to differentiate product
Consumer focus –access, co-pay offsets / direct-to-consumer (US)
Additional challenges for emerging biopharma include:
Partner with large company – reaching the consumer can be an expensive proposition.
This particular case study focuses on services to differentiate products and a consumer-focused campaign.
Who benefits: Vascepa and the hypertriglyceridemia market
Vascepa (icosapent ethyl) was approved in the U.S., in July 2012 and launched in January 2013 by Amarin. It is a purified form of omega-3, containing only EPA (eicosapentaenoic acid), and was approved for severe hypertriglyceridemia. The drug missed the hoped-for mixed dyslipidemia indication after a vote against approval from an FDA advisory committee.
At the time of its launch, Vascepa was up against a marketed and branded prescription formulation of a blend of two omega-3 fatty acids, backed by big pharma. Other competitors included branded statins, the first of the generic statins, and over-the-counter omega-3 supplements.
Amarin therefore needed to carve out a space for its product, and the strategy for the launch was to build out the brand and differentiate the product in the eyes of the consumer.
Vascepa underperformed its competitors at launch.
Analysts predicted around $59 million in revenue for 2013 for Vascepa. However, the first-year sales were just $32 million. This represented around a fifth of the market, with the other four-fifths taken by the branded prescription formulation of omega-3.
This was due to a lack of consumer awareness and understanding of the value of omega-3s in raised triglycerides, which led to fewer patient visits and fewer screenings than expected. In an attempt to raise awareness and improve its market share post-launch, Amarin launched an unbranded website, to educate about triglycerides.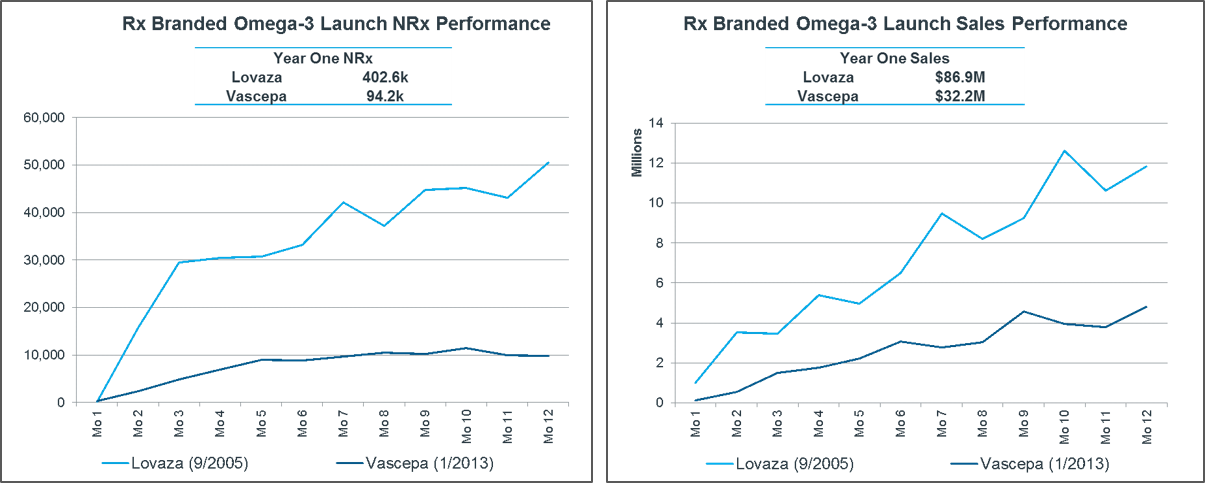 Working through challenging times
At the time of the launch, Amarin was going through a period of transition, and was undecided what its future business strategy was going to be. At the same time, it was trying to convince the FDA that Vascepa was a new chemical entity (NCE), which would have extended the drug's regulatory exclusivity.
When there is low product differentiation between drugs in the market, the role of the consumer becomes more significant, as does the value of direct-to-consumer campaigns. DTC promotion is a costly process, however, often involving a considerable spend on a television campaign. While Amarin understood the relevance of the consumer influence, as a smaller company it didn't have the financial clout required to push forward a full-blown DTC promotion.
Amarin did not partner for the commercialization of Vascepa, possibly due to an inability to find one. It is impossible to say what would have happened had Amarin been able to partner. However, partnering with a larger company can often have a benefit for small companies that fall into the "who benefits" archetype – products with low unmet need and low product differentiation.
To get more insight into the "market shaping" archetype visit: A framework for successful biopharma launches for the recorded webinar, supported by a slide presentation.

More about the Authors:
William McClellan
Center of Excellence Leader, Launch Excellence
William is an expert in the field of pharmaceutical launch excellence with over 20 years of experience. He leads the Launch Center of Excellence for the U.S. at IQVIA where he focuses on launch readiness, tracking, and performance diagnostics utilizing patient data such as predictive modeling and quantitative and qualitative research.
Maneesh Gupta
Senior Principal, Brand & Commercial Strategy, IQVIA
Maneesh is a Senior Principal with Consulting Services at IQVIA. He focuses on launch, brand, and commercial strategy. He has been helping organizations excel at launches and become more customer centric for over 20 years. His papers on these topics have been published in several industry journals.