A successful launch relies on understanding how products perform in today's environment, identifying the product differentiation and unmet need.
The product launch landscape has seen some significant shifts. The reduced access to physicians, increased competitive intensity, and increasing influence of payers are just a few of the factors creating a more challenging landscape for product launches. Emerging biopharma companies must decide if they will go it alone to launch their product or look for a partner who has experience and resources.
This post, the first in a series exploring a framework for successful launches, shares insights from an analysis of new drug launches and explains a method to identify a launch archetype based on unmet need and product differentiation. Later posts in the series draw on real-world examples to help you to identify the best approach to a successful launch.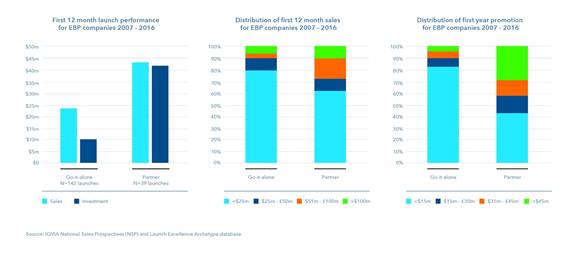 Performing in today's environment
IQVIA's analysis demonstrates the challenging landscape for drug launches with only around 1% of launches actually excel, and just 30% hit their first-year forecast.
The average first-year sales for newly-launched brands have been increasing over the past seven years, driven by higher-value launches such as specialty and oncology drugs. However, while sales are increasing the numbers of patients who benefit from the launch are falling. This trend increases as many companies focus more on the specialty market, specifically, rare and orphan diseases with small and tightly-defined populations. Overall, the amount spent on innovation has risen approximately four-fold, while the number of patients who benefit has fallen by a similar order of magnitude.
Biopharma companies are driving innovation. however, the average first-year gross sales differed dramatically between large pharma and biopharma; the average first-year sales for biopharma organizations were $28 million compared to $114 million for large pharma.
It is clear that, when planning their own launches, emerging biopharma need to understand the drivers behind cost-effective launches that deliver better returns on investment.

Partner or go it alone
When we look only at first-year sales, there is a clear advantage to partnering, average 12-month sales for biopharma companies that go it alone being less than $25 million, while average 12-month sales for organizations that decided to partner is almost $44 million. The analysis of the launches between 2007 and 2016 reveals the average first-year promotional spend was four-fold higher for companies that partnered vs. those who go it alone. This could be one of the drivers behind the much higher sales demonstrating the advantage of deeper pockets. However, the average investment for a partnership is $41 million, compared to $10 million on average for those who go it alone. When you consider that the shared revenue for partnerships along with the significant investment there may be little advantage to partnering. So, although partnering provides the opportunity for larger investment, the majority of partnerships produce similar results to going-it alone.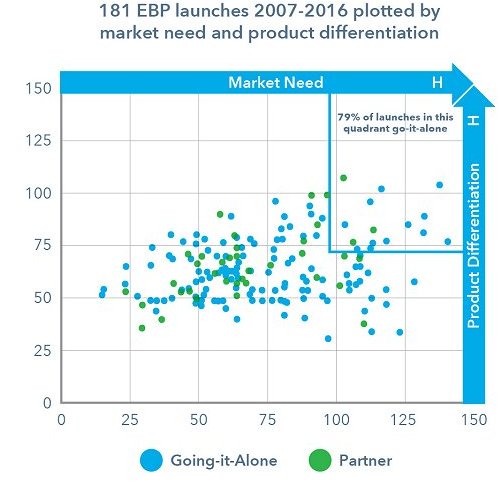 Product value drivers: Market need and product differentiation
Differences in market need and product differentiation have a major impact on product sales. Products with a high market need and high product differentiation are more likely to be launched alone and are likely to have the highest first-year sales. In contrast, products with low differentiation and a low market need have a lower potential revenue stream and are a more challenging 'sell'. This makes them more likely to rely on a partner that has more money to invest and has a greater influence on payers.
Understanding Launch Archetypes
The analysis of these launches plotted on a matrix of market need and product differentiation helped identify four distinct launch archetypes with a strong correlation between the archetype and revenue. These launch archetypes are useful in determining the critical success factors, which in turn shape the launch and help companies to focus on the most important parts of the launch process. These critical success factors will help to align the organization, provide a foundation for strategies and tactics, optimize and focus resources, and maximize the chance of success.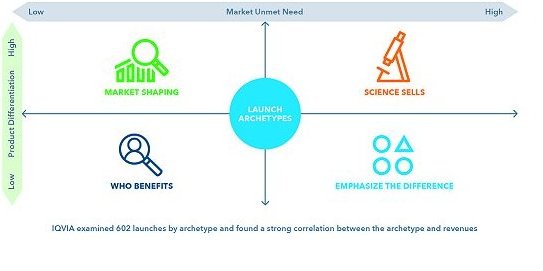 Beyond these critical success factors, emerging biopharma have other aspects they need to focus on. They need to have the right resources and the right partners, and they must allow themselves enough time to work their way through the process. On top of all of this, they need to have enough cash for the process, and be aware of the need to manage the expectations of their investors, based on the realistic potential revenues of their products.
All of this may seem daunting for an emerging biopharma company looking to find success with its first-drug-to-market launch. This is the first in a five-blog series. The subsequent posts detail the four launch archetypes, "science sells", "market shaping", "who benefits" and "emphasize the difference", and their specific critical success factors.