Orexigen's decision to partner, and to use its marketing weight and know-how to reach out to consumers enabled Contrave to overcome its brand competitors and become second in the market.
This is the last blog in the five-blog series: Creating a framework for a successful launch. IQVIA analyzed launches globally to identify common launch challenges and pitfalls. Four launch archetypes were identified, "science sells", "market shaping", "who benefits" and "emphasize the difference", each had very specific critical success factors.
IQVIA selected Orexigen Therapeutics' launch of Contrave as an example of "Emphasize the difference", used to describe drugs with high unmet need in the market and low product differentiation. When dealing with a product with that combination, the launching company would need to look at the following aspects:
Consumer focus and share of voice
KOL engagement and advocacy
Competitive pricing
Services to differentiate product
Patient segmentation and targeting
Comprehensive evidence generation
Additional challenges for emerging biopharma include:
To emphasize the difference, the sales force needs to have credibility with physicians.
This particular case study focuses on consumer focus and share of voice.
Emphasizing the difference: Partnering provides marketing muscle
Contrave (naltrexone/bupropion) was approved as an adjunct to a reduced-calorie diet and increased physical activity for chronic weight management in adults with an initial body mass index (BMI) of 30 or more, or 27 in patients with one or more related co-morbidities. Contrave was launched in 2014, where it was up against low-cost generic phentermine, and against two big pharma branded drugs, with a third joining the market seven months after.
The obesity market has some challenges, including historic safety issues in this field. Wyeth's Pondimin (fenfluramine/phentermine, also known as fen-phen) was approved in 1996 but withdrawn in 1997 after heart valve problems and deaths. There are also perceptions from patients and physicians that obesity is a lifestyle choice rather than a treatable disease, which is bolstered by the lack of protocols for its treatment.
Orexigen is an emerging biopharma company, and Contrave was its first launch onto the U.S. market. Because of the size of the obesity market and its associated issues, Orexigen granted an exclusive license to market, while retaining the ability to co-promote the treatment. Takeda's experience in the diabetes and endocrinology market, and its established field force of 900 reps, provided credibility to the physicians, and the ability to reach healthcare providers.
Emphasize the difference
While the market was a busy one, it is still one with unmet need, and Contrave had a number of advantages against its competitors:
Contrave was the only non-scheduled obesity drug on the market at its time of launch, confirming its limited abuse liability. This status also meant that it was more easily accessed by patients, physicians could give out samples, and it could have broader use in the future.
Contrave was the first obesity drug to meet the FDA's cardiovascular outcomes data requirement, supporting its safety.
Contrave's pricing and discounts meant that it was affordable for both insured patients and patients whose insurance did not cover the drug.
Orexigen and Takeda's product messaging highlighted Contrave's limited abuse potential as a non-scheduled drug, its improved cardiovascular safety, and its overall affordability. The companies also launched a "Resolve now: Stay ahead of the curve" campaign, targeting overweight and obese women, including those with depression. This used actress Sara Rue as a spokesperson, who encouraged women to visit a patient facing product website to enter a contest sharing their personal weight loss journey.

Seeing the outcomes
After its launch, Contrave overcame its brand competitors and was second in the market only to phentermine, supporting Orexigen's decision to take a partner and to use its marketing weight and know-how to reach out to consumers.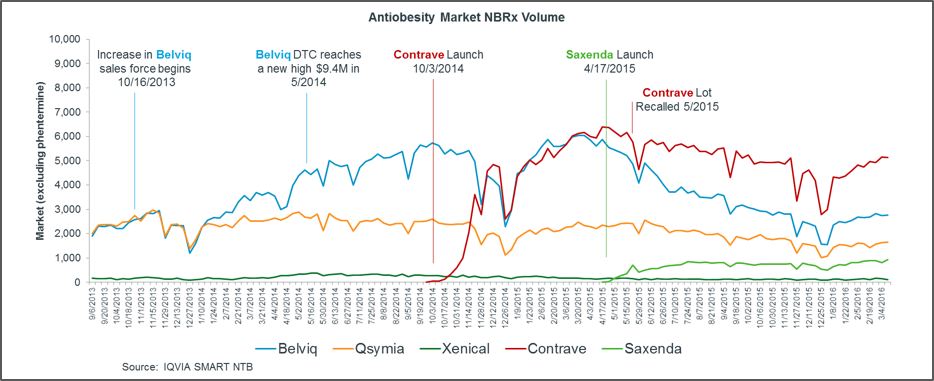 Contrave was also more actively promoted to physicians via contacts than its competitors at launch, confirming how important networks can be in promotion of drugs of this launch archetype.
To get more insight into the "emphasize the difference" archetype visit: A framework for successful biopharma launches for the recorded webinar, supported by a slide presentation.

More about the Authors:
William McClellan
Center of Excellence Leader, Launch Excellence
William is an expert in the field of pharmaceutical launch excellence with over 20 years of experience. He leads the Launch Center of Excellence for the U.S. at IQVIA where he focuses on launch readiness, tracking, and performance diagnostics utilizing patient data such as predictive modeling and quantitative and qualitative research.
Maneesh Gupta
Senior Principal, Brand & Commercial Strategy, IQVIA
Maneesh is a Senior Principal with Consulting Services at IQVIA. He focuses on launch, brand, and commercial strategy. He has been helping organizations excel at launches and become more customer centric for over 20 years. His papers on these topics have been published in several industry journals.