Mastering your Multichannel Marketing
In today's high-tech world, there have never been more ways to connect, engage and communicate with your customers. From face-to-face to social media, and emails to mobile apps, multichannel marketing (MCM) is the buzzword on everyone's lips. But how can you get past the hype, start to get it right and achieve more from your multichannel marketing? That's the question we posed to our audience during our interactive MCM session on Friday, May 10.
How well is the industry doing with MCM?
"Multichannel" means getting synergies from connected channels. Simply adding channels without connecting them doesn't bring additional benefits. Yet some fact and figures about Pharma reveal some worrying trends: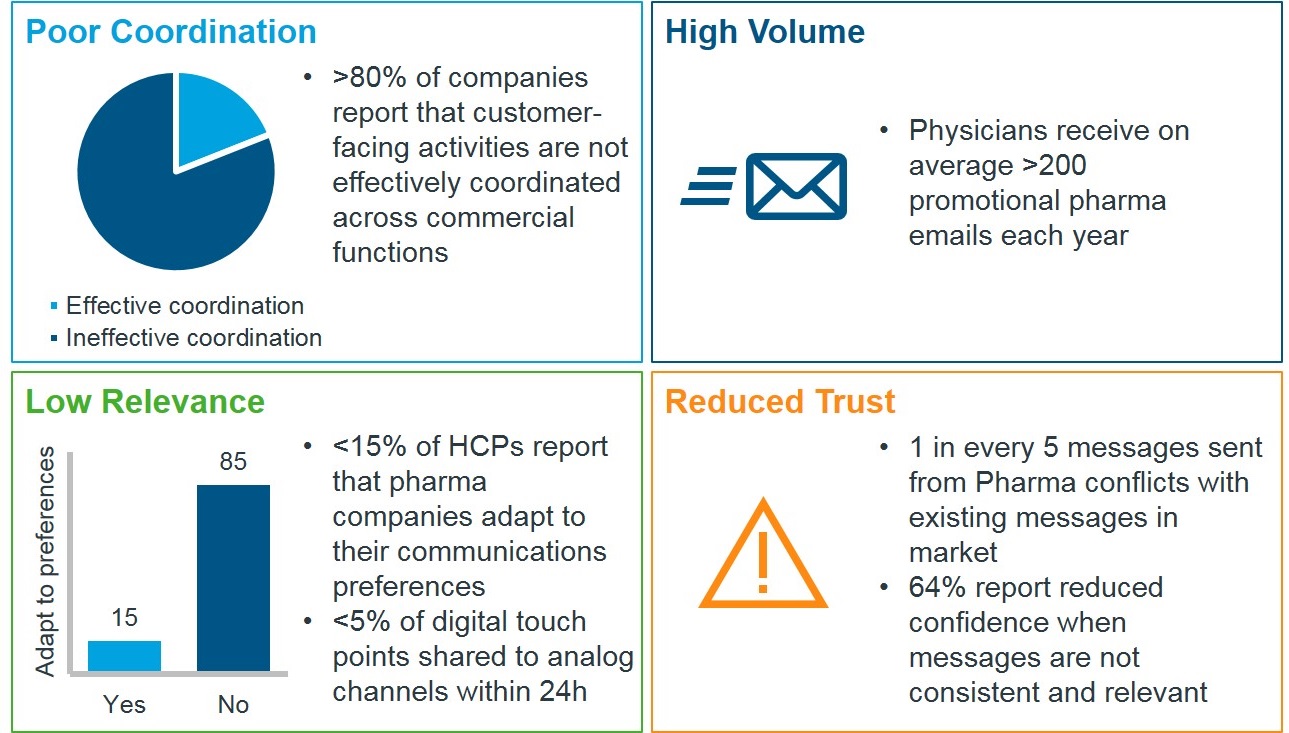 The reality is that Pharma still has a long way to go to improve the perception that HCPs have of its digital and traditional promotional contacts.
The good news is that we see an appetite among HCPs for digital to be a key component of pharma company communications. However, they naturally expect quality, not just quantity.
Digital pays!
Consistent use of digital over the first year a product is on the market is associated with the most commercially successful launches.

On average, successful launches are more likely to have a sustained digital approach. In these cases, digital channels were sustained and perhaps more integrated as part of an orchestrated strategy.
Don't be a follower, be a trendsetter!
There are already some amazing examples of Pharma blazing a trail with innovative new technologies:
L'Oréal' investing in augmented reality solutions and acquiring Modiface to expand its digital offering for an enhanced beauty experience, with the service embedded in its e-commerce platforms
Boeringher Ingelheim investing in Soundtalks to accelerate the detection of respiratory problems in pigs using an algorithm to monitor their coughing
Biocartis and AstraZeneca entering into an agreement aimed at faster lung cancer biomarker results
MCM: An ongoing coordinated team effort
As we illustrate bellow, to launch an MCM framework you'll have to manage complexity across your organization, while improving your MCM maturity over time.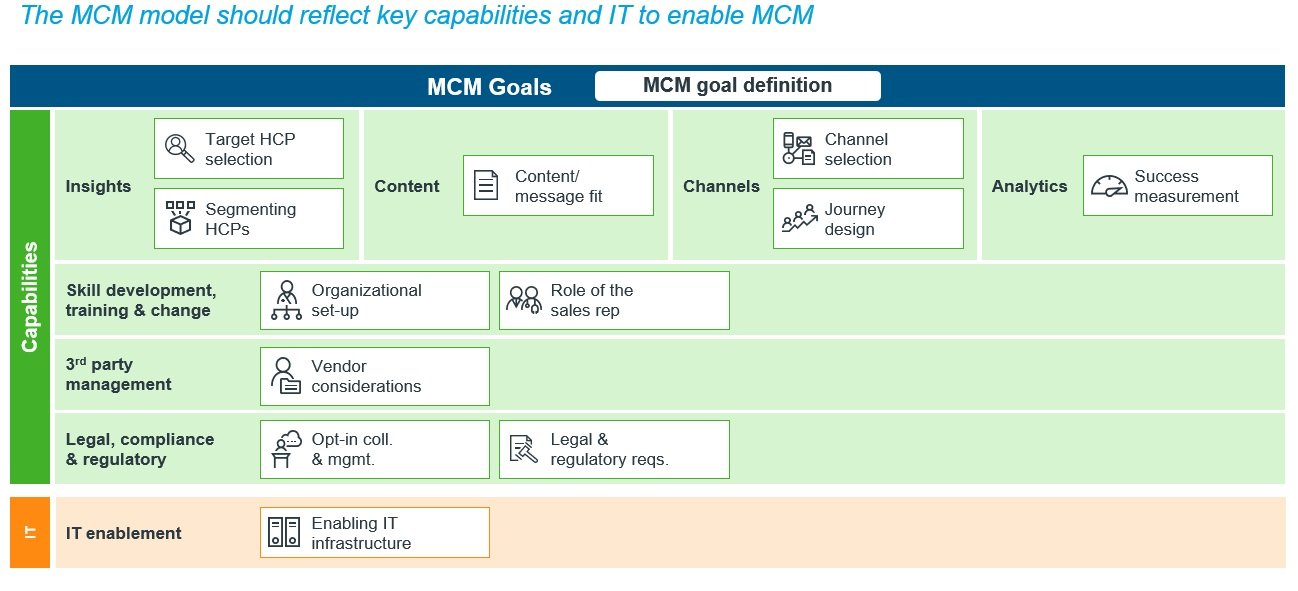 Technology as a frequently missing but crucial MCM enabler
Prior to our event, we asked our customers if they were already segmenting their audience. A large majority (90%) said "yes". Yet, when we asked if they had the right technology to differentiate their audience, only 60% felt they did.
This shows that technology is all too frequently the missing, but crucial enabler.
During our event, we highlighted some of the tools, like social listening, artificial intelligence and machine learning, that now exist and cannot be ignored.
Take social listening. Its strength as a powerful tool should not be underestimated. It affords direct access to what your patients do, think and say with and about your products. So, next to pure listening, it will allow you to categorize, analyze and last but not least, strategize.
Segmentation and activation: It takes two to tango
It is frequently the case that segmentation and activation are tackled sequentially and separately. While, in fact, both go hand in hand.
Because they both have their constraints, segmentations and activation plans need to be created in an iterative approach until only the differentiating aspects that can be acted upon are kept.
More and more dimensions are being used in multi-channel segmentations: adoption, behaviors, psychographics, demographics, etc… While they are all relevant, they should always be created with specific purposes in the activation plans.
The activation plan is a sequence of specific messages delivered in a specific order using a specific channel mix, tailored to each of your customer segments.
By combining customer insights, impact evaluations and channel costs, an optimal channel mix can be set up for each customer segment. Defining the optimal message mix will be a more qualitative process. However, if the segmentations are clear, the process will be very intuitive.
Controlled execution: Track your performance and results to give sense to your MCM
Prior to our event, we also asked our audience if they were able to measure their success. Almost half of them said "no". Yet measuring the success of your MCM strategy and implementation is crucial to adapt to an ever-changing reality.
Measuring success takes place on multiple layers:
The status/adoption of the implementation
The success of the implementation
The correlation between status and success
A robust success measurement framework is essential to understand if your MCM objectives are being achieved.
If you would like to know more about mastering your MCM please contact us. And if you'd like to discover how dashboarding can lead you to a more controlled execution, we invite you to email us so that we can send you the invitation for our Learn and Discover session in September about Business Intelligence and Data Science.
Source