IQVIA Treatment Satisfaction Questionnaire for Medication (TSQM)©
Getting to the heart of patient treatment satisfaction
Patient satisfaction is paramount in how treatments perform in everyday life. Metrics on this outcome are of growing interest to payers, increasingly valuable to clinical research and fast gaining influence in the choice between alternative treatments. As all stakeholders expand their use of patient-reported outcomes (PROs) in decision-making, building robust, reliable evidence of patient satisfaction and experience is critical.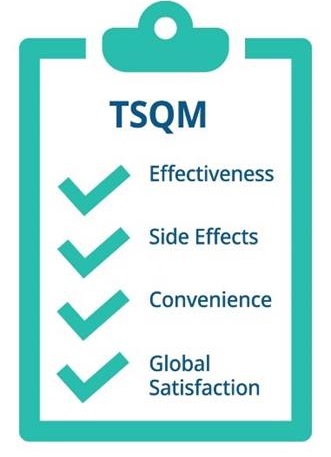 Powering a patient perspective
IQVIA's Treatment Satisfaction Questionnaire for Medication (TSQM)© is the go-to measure of its kind.
A conceptually and psychometrically valid PRO instrument, the TSQM assesses four key dimensions of treatment satisfaction: Effectiveness; Side Effects; Convenience; and Global Satisfaction, enabling comparisons across medication types and diseases.
The TSQM is used widely in phase III and IV studies by pharmaceutical and biotech companies, as well as by academic institutions, non-profit organizations, hospitals and more to
Understand treatment acceptability for patients
Demonstrate value from the patient perspective
Identify the risk of poor adherence and persistence
Evaluate treatments in clinical trials and observational studies
Differentiate between alternative treatments
Support claims in product labeling
Why the TSQM?
Looking to identify endpoints of relevance to patients? Design studies measuring PROs? Understand the impact of side effects on patient lives? Rate costs against the benefits of treatment? IQVIA's TSQM is the appropriate tool, from clinical trials to observational research.
Applicable for any therapeutic area, type of treatment or healthcare experience
Rigorously developed with sound psychometric properties
Translated into 100 linguistically-validated languages
Three versions to suit study requirements
Contact
To learn more about the TSQM or to request a TSQM license for your study, contact tsqm@iqvia.com.
Key TSQM validation publications
1. Atkinson MJ, Sinha A, Hass SL, et al. Validation of a general measure of treatment satisfaction, the Treatment Satisfaction Questionnaire for Medication (TSQM)©, using a national panel study of chronic disease. Health Qual Life Outcomes, 2004; Feb 26; 2:12. Download
2. Atkinson MJ, Kumar R, Cappelleri JC, et al. Hierarchical construct validity of the treatment satisfaction questionnaire for medication (TSQM version II) among outpatient pharmacy consumers. Value Health, 2005; 8(S1):S9-S24. Download
3. Bharmal M, Payne K, Atkinson MJ, et al. Validation of an abbreviated Treatment Satisfaction Questionnaire for Medication (TSQM-9) among patients on antihypertensive medications. Health Qual Life Outcomes, 2009;
Apr 27;7:36. Download
Treatment Satisfaction Questionnaire for Medication (TSQM)© Privacy Statement
This privacy statement pertains to the specific activities of the Treatment Satisfaction Questionnaire for Medication (TSQM)©, operated by IQVIA.