Ready: The billion-euro opportunity
In October 2018, AbbVie's Humira (adalimumab) lost exclusivity in the EU, creating a €3.9bn1 opportunity for biosimilar manufacturers in this region. This is the largest biologic to go off-patent in this generation and so creates an enticing potential for healthcare savings and increased patient access.
In the month before Humira's loss of exclusivity, the UK posted the largest consumption volume in Europe. Germany and France followed closely and EU52 as a bloc took 68% of Humira usage in the EU.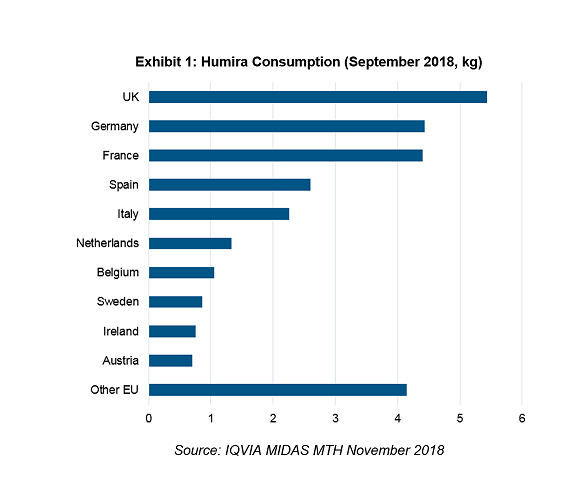 Set: Seizing the opportunity
Biosimilar manufacturers had been preparing for this moment for years, Exhibit 2 shows eight Marketing Authorisations (MAs) currently registered amongst five of the largest players.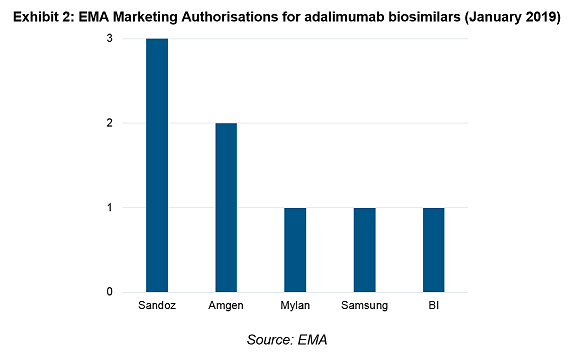 It is not uncommon for a company to register several MAs for the same product for commercial reasons, such as to bypass indication exclusivity variations in member states or to out-licence a product. Sandoz leads the pack with 3 MAs and Exhibit 3 breaks down the indications approved for each product.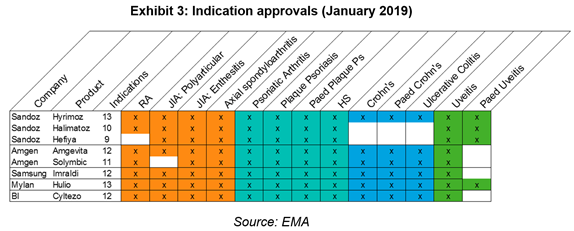 Aside from Cyltezo which will not be launching in the EU as Boehringer Ingelheim decided to focus on the US, all products are ready for launch and so the race is on to gain pole position in key markets.
The UK has been a key driver for biosimilar uptake amongst the top five EU countries by implementing centralised policies favouring switches to the best value biologic. For adalimumab, NHS England was proactive in preparing a special framework to ensure all procurement specialists and hospitals were ready to adopt the biosimilars.
NHS England diligently structured a centralised tender3 designed to:
Split the market into 11 regions
Award market access to multiple bidders, ensuring fair and sustainable distribution
Retain originator Humira availability throughout the first framework
Ensure a citrate-free biosimilar version is available (after feedback from patients)
The purpose was to ensure no single supplier could be awarded the whole market and provide a strong incentive for suppliers to offer their best price. Exhibit 4 shows the available market to each player with:
Samsung Bioepis/Biogen awarded nearly 45% of the English market
Runners-up Amgen and Sandoz have roughly equal access to 50% of England
Mylan/Fujifilm Kyowa Kirin awarded South London representing 5% of England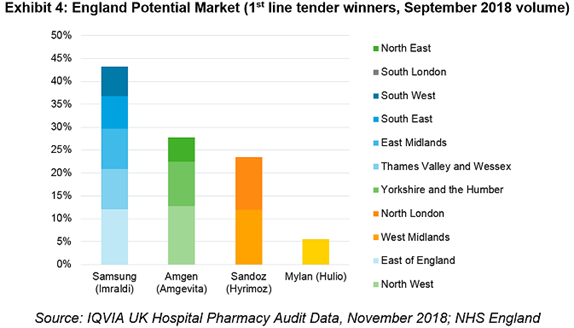 Go! Fighting for Market Share
As of November 2018, the first round of products launched across Europe and early indications show Samsung and Amgen have the upper hand in country coverage.
In total, there are 14 countries with adalimumab biosimilar usage. Germany leads the pack with four adalimumab biosimilars already in circulation. The UK, the largest market by volume, has launches from both Samsung and Amgen, who are battling to win 70% of England between them.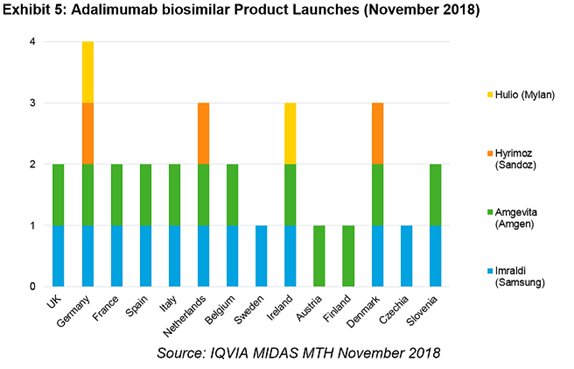 In Germany, Humira originator patient numbers fell in November compared to September (which remained flat across the previous year) as physicians switched them out to other products. Tellingly, the largest recipients of these patients were the biosimilars, with Samsung and Sandoz initial winners in the German market.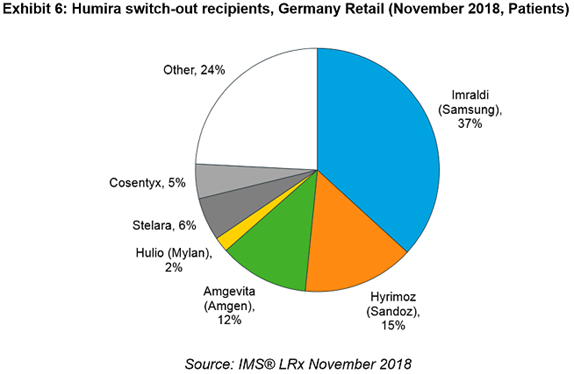 Winners and Losers
On the dawn of the biggest biosimilar event to date, it is difficult with limited data to nominate who will reap long term success in the battle for autoimmune market share.
Some early patterns are emerging that show Samsung and Amgen have been fast off the mark in key market launches. It is Samsung with Imraldi that has won out so far in the two markets that matter the most: Samsung has the largest potential market in the UK and has shown the most success in acquiring Humira patients in Germany.
It's important not to lose sight of the finishing line. If the policies put in motion by EU member states provide budget relief that can be converted into increased access, ultimately it would make patients the real victors of this billion-euro opportunity.
For more information on biosimilars, please reach out to me through email.
---
1 IQVIA MIDAS MAT Q3 2018
2 EU5 countries defined as UK, Germany, France, Spain, Italy
3 https://www.sps.nhs.uk/articles/rmoc-briefing-on-adalimumab-december/