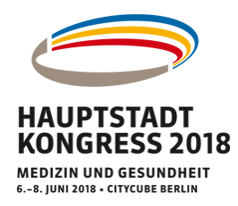 IQVIA ist in diesem Jahr zum ersten Mal beim Hauptstadtkongress Medizin und Gesundheit 2018, dem Gipfeltreffen des Gesundheitswesens in Berlin, vertreten. In unserem Satellitensymposium am Donnerstag, den 7. Juni 2018 um 11:30 – 13:00 Uhr möchten wir unsere Vision für einen besseren Versorgungsalltag präsentieren.
Human Data: Focusing on patients–in everyday care and in medical research*
Dr. Frank Wartenberg
Driving healthcare forward based on breakthroughs in insights, technology and human intelligence
Rethinking approaches to clinical development and commercialization, creating new opportunities from today's challenges
Exploring a new path to better health outcomes via Human Data Science
Data Science: Linking data expertise with scientific excellence*
Dr. med. Kerstin Bode-Greuel
Using data science to provide' 'the right therapy for the right patient at the right time'
Predicting strong responders on the one hand and patients with highest remaining medical need on the other hand based on realworld data, for a better and safer use of medicines
For developing innovative therapies, predict which patients are most likely to benefit from your drug and to reach the trial endpoints
Human Science: the next generation of clinical development*
Carlos Quevedo
Connecting institutional knowledge, data, advanced analytics, and technology across the entire business to transform clinical trials
Unique depth and breadth of disease and therapy-related data – curated, connected and integrated into the clinical trial process are the game changers for clinical development
Regulatory rules and control mechanisms secure patient safety, data handling and data protection
*Die Präsentationssprache ist Deutsch.