Analyst Real-World Insights
Robert, Analyst Real-World Insights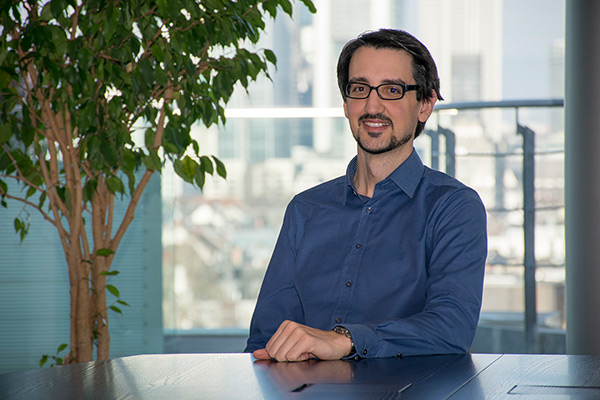 Wie war Dein Bewerbungsprozess?
Nach einem ersten Telefonat mit HR hatte ich ein Telefoninterview mit dem (potenziellen) Fachvorgesetzten und einem erfahrenen Teammitglied. Das etwa 45-minütige Gespräch war fachlich geprägt, meine Gesprächspartner hatten viele Fragen zu meiner Promotion in Physik und meinen Programmiererfahrungen. Es war ein intensiver Dialog in einer entspannten Stimmung. Recht bald folgte dann ein positives Feedback, verbunden mit der Vereinbarung eines persönlichen Gesprächstermins vor Ort in Frankfurt. Dort fanden wir uns in derselben Runde wieder, erweitert um eine Führungskraft aus meinem Arbeitsbereich. In diesem fast zweistündigen Austausch rund um Werdegang, Motivation und fachliche Inhalte habe ich eine Präsentation zu meinen Forschungsergebnissen aus der Astrophysik gehalten und eine Fallstudie bearbeitet, bei der es unter anderem um die Analyse von Charts zu diversen Impfstoffen ging. Auch hier war die Atmosphäre angenehm. Der Ausgang ist bekannt…
Warum hast Du Dich für diesen Job entschieden?
Im Studium bin ich unterschiedlichsten Fragestellungen nachgegangen, die naturgemäß eher theoretischen Charakter hatten. Gegen Ende meiner Promotionsphase wurde der Wunsch dann immer stärker, aus der Forschung heraus und hinein in die Praxis zu gehen. Bei IQVIA bin ich sozusagen "mitten im Geschehen": Mit meiner jetzigen Tätigkeit nehme ich konkret und direkt Einfluss auf die Angebote für unsere Kunden und habe damit indirekt auch Anteil an deren Erfolg, was ich sehr motivierend finde. A propos Kunden: Der Kundenkontakt nimmt bei mir großen Raum ein und ist für mich ein echtes Highlight meines Jobs. Daneben spielte die fachliche Seite eine große Rolle: Datenanalysen haben mich über mein gesamtes Studium begleitet, dazu gehören auch Programmierung und die Vorstellung von Analyseergebnissen, zum Beispiel auf Fachkonferenzen. Schließlich wollte ich als gebürtiger Frankfurter nach verschiedenen Stationen im In- und Ausland auch beruflich in der Mainmetropole Fuß fassen, auch der Firmenstandort war also ein Beweggrund.
Wie sieht Dein typischer Arbeitstag aus?
Im Mittelpunkt meiner Arbeit stehen longitudinale Analysen (Langzeitanalysen) von Verschreibungsdaten aus einer zentralen IQVIA Datenbank. Das laufende Geschäft wird zum Einen bestimmt von regelmäßigen Updates für unsere Kunden, zum Anderen aufgrund der Marktdynamik im Pharmasektor (neue Produkte, neue Fragestellungen) auch vom wachsenden Bedarf der Unternehmen an Sonderauswertungen. Die von mir verantworteten Datenanalysen sind also keine "statische" Angelegenheit, sondern werden permanent an den sich ändernden Marktbedingungen und –erfordernissen ausgerichtet. Derzeit laufen – auch infolge erfolgreicher Kundenakquise – viele Projekte gleichzeitig, zugleich arbeite ich gerade zwei neue Kollegen ein, das ist fachlich und organisatorisch eine spannende Aufgabe. Neben der reinen Datenanalyse bereite ich Angebote für unsere Kunden vor, stimme diese mit unseren Sales-Spezialisten ab und stehe dabei in ständigem Austausch mit unseren Kollegen aus dem Ausland. Da wir unsere Angebote grundsätzlich gemäß Vier-Augen-Prinzip gegenseitig checken, stehe ich fortwährend im Austausch mit meinem eigenen Team. "Chefgespräche" sind demgegenüber eher selten und finden nur bei speziellem Entscheidungsbedarf statt, wir arbeiten alle sehr eigenständig in unseren jeweiligen Arbeitsbereichen. Der intensive Kundenkontakt spielt sich überwiegend per E-Mail oder Telefon ab, meine Reisetätigkeit ist recht überschaubar.
Was ist das Tolle an Deinem Job?
Die ausgeprägte Kollegialität und lockere Atmosphäre bei uns ist für mich ein wichtiger Faktor, um "Spaß an der Arbeit" zu haben. Hinzu kommt die wirklich vielseitige Tätigkeit in der Verbindung von Analysen, Programmierung und Kundenkontakt, die mich ausfüllt!
Welche Herausforderungen bringt Dein Job mit sich?
In meinem Job ist es wichtig, komplexe Sachverhalte zu verstehen und sich immer wieder neu in die Situation unserer Kunden hineinzuversetzen. Dabei ist mitunter auch Fingerspitzengefühl in der Kommunikation gefordert. Wie schon angedeutet, muss man in der Lage sein, auch bei mehreren parallel verlaufenden Projekten und vielen relevanten Details nie das Große Ganze aus dem Blick zu verlieren und damit den Überblick zu behalten. Projektmanagement ist eine fortlaufende Herausforderung: So muss ich beispielsweise einschätzen (können), welche Zeit bestimmte Analysen oder auch technische Problemlösungen in Anspruch nehmen. Hier sind Erfahrungswerte gefragt, mit der Zeit bekommt man einfach ein Gefühl dafür. Nicht zu vergessen ist eine gesunde Belastbarkeit – infolge der jeweiligen Deadlines sind Projekte immer auch mit einem gewissen Zeitdruck verbunden. Kenntnisse des Gesundheitswesens sind natürlich vorteilhaft, aber sie lassen sich, wie in meinem Fall, auch "on the job" aneignen.
Was macht Dein Team aus?
Obwohl jeder bei uns seinen eigenen und klar umrissenen Aufgabenbereich verantwortet, haben wir einen ausgesprochenen Teamgeist, und man kann sich absolut aufeinander verlassen. Schließlich vertreten wir uns auch gegenseitig im Krankheits- oder Urlaubsfall. Außerdem kommt bei uns der Humor nicht zu kurz, das gilt für das gesamte Team.
Warum passt Dein Arbeitgeber zu Dir?
Die fachliche Seite meiner Arbeit entspricht weitgehend den Inhalten meines Studiums und meinen Interessen; hinzu kommt die Unternehmenskultur von IQVIA™, die mit flachen Hierarchien, gegenseitigem Respekt, Diversität und interdisziplinärer Zusammenarbeit eine große Schnittmenge mit meinen persönlichen Wertvorstellungen aufweist.
Wie hast du das Onboarding erlebt?
Leider kam der Orientation Day für mich persönlich erst relativ spät nach meinem Einstieg, so dass dieser für mein Onboarding keine entscheidende Bedeutung hatte. Durch die intensive Einarbeitung von Seiten einer Kollegin und die fachliche Begleitung durch einen erfahrenen Kollegen und Mentor habe ich mich dennoch gut unterstützt gefühlt, außerdem stand mir als weitere Hilfe ein "Pate" zur Seite, der mir Türen öffnete und allgemeinere Erläuterungen zum Unternehmen geben konnte. Mit dem Gesundheitswesen als solchem und der Programmierung in SAS habe ich mich dann während der Arbeit an meinen Projekten vertraut gemacht, Eigeninitiative war hier also durchaus auch gefragt.
Wie erlebst Du die Zusammenarbeit bei IQVIA?
Natürlich gibt es in jedem Unternehmen Unterschiede zwischen einzelnen Bereichen oder Abteilungen. Was bei IQVIA aber bereichsübergreifend gilt, ist eine ergebnisorientierte Arbeitsweise und Mitarbeiterführung. Dazu gehören als fester Bestandteil jährliche Zielvereinbarungen. Auf welchem Weg ich dann zu den gewünschten Ergebnissen komme, bleibt mir – selbstverständlich unter Einhaltung der konzernweit geltenden Regularien (z.B. Code of Ethics) – in der Regel selbst überlassen. Diese Gestaltungsfreiheit ist mir persönlich wichtig. Bei all dem ist die Zusammenarbeit in meiner Wahrnehmung locker, wertschätzend und von großer Kollegialität geprägt. Man ist sich einfach bewusst, dass niemand allein alles wissen oder leisten kann. Es ist dieses "Gesamtpaket", was die Zusammenarbeit bei IQVIA für mich so angenehm gestaltet.
Was würdest Du Bewerbern auf Jobs in Deinem Unternehmensbereich raten?
Bewerber sollten neben dem allgemeinen Interesse am Gesundheitswesen unbedingt logisch-analytisches Denken sowie eine Affinität für Zahlen und Programmierung mitbringen. Hinzu kommen sicherlich eine ausgeprägte Lernbereitschaft, Freude am Kundenkontakt, Spaß an Projektmanagement und Priorisierung und schließlich die Fähigkeit zum Multitasking angesichts parallel laufender Projekte.