Technical Support Client Services
Dirk, Manager Technical Support Client Services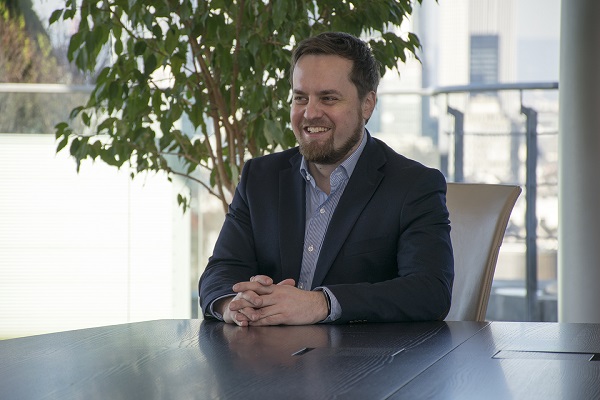 Wie war Dein Bewerbungsprozess?
Nach einem Telefonat mit HR fand mein Erstgespräch vor Ort – übrigens nur mit dem Fachbereich – in einer angenehmen Gesprächsatmosphäre statt. Die positive Rückmeldung kam schon nach wenigen Tagen, insofern lief alles schnell und unkompliziert. Nach etwa einem Jahr habe ich mich auf eine Stelle im benachbarten Bereich beworben und in diesem Kontext also noch einen internen Bewerbungsprozess durchlaufen. Hier wurden zwei Gespräche geführt, das Feedback kam jedoch auch hier zeitnah.
Warum hast Du Dich für diesen Job entschieden?
Entscheidend für mich war die Kombination aus technischer IT-Unterstützung und Customer Service. In der Verbindung dieser beiden Welten fühle ich mich zu Hause, sie entspricht auch meinem Ausbildungshintergrund im Bereich IT / CRM. Vor etwa zwei Jahren habe ich in meiner Funktion zusätzlich auch die Personalverantwortung für die Mitarbeiter des gesamten Client Service Desk übernommen. Dieser Schritt stellt eine Bereicherung mit Blick auf meine Persönlichkeitsentwicklung dar und stärkt mich deutlich in meinem Bestreben, den durch Erfahrung und Kenntnisse gewonnenen Horizont stetig zu erweitern.
Wie sieht Dein typischer Arbeitstag aus?
Wer im Kundensupport tätig ist, für den kann jeder Tag Neues bringen! Denn jede Kundenanfrage ist ja anders: So gibt es beispielsweise einfache, schnell zu beantwortende Anliegen oder wirklich knifflige Fälle, deren Bearbeitung deutlich mehr Zeit in Anspruch nimmt. Das gilt grundsätzlich auch für die Teamverantwortung. Ob nach außen oder innen: Immer geht es darum, Beziehungen aufzubauen, Vorgänge und Projekte unter Performance- und Kapazitäts-Aspekten zu priorisieren und fortwährend für jedes kleine & große Anliegen ein offenes Ohr zu haben. In meiner Funktion stehe ich mit vielen Ansprechpartnern in regelmäßigem Kontakt, so auch Sales, mit dem ich auch selbst Kunden besuche.
Neben der Steuerung der täglichen Kommunikation mit den Anwendern unserer IT-Services koordiniere ich insbesondere die Prozesse im Arbeitsalltag, wie zum Beispiel das Incident-, Problem- & Change-Management. Darüber hinaus investiere ich meine Arbeitszeit in die regelmäßig stattfindenden Teammeetings, Feedback-Gespräche im Rahmen der Mitarbeiter-Beurteilungen und sonstige HR-Angelegenheiten.
Was ist das Tolle an Deinem Job?
"Mitten im Getümmel" zu sein, mit vielen Menschen zu arbeiten und dies mit technischen Themen verbinden zu können, ist aufgrund meines kommunikativen Naturells und meiner IT-Affinität das Großartige an meinem Job. In unserem Unternehmen kommt die Gestaltungsfreiheit hinzu, ergebnisorientiert Lösungswege selbst zu finden und zu gehen.
Welche Herausforderungen bringt Dein Job mit sich?
Der stetige (technologische) Wandel ist eine in Teilen intellektuelle, aber durchaus auch kommunikative Herausforderung, die mich reizt. So muss ich mich immer wieder auf neue technische Themen einstellen und diese entsprechend kommunizieren. Im Client Service sind wir bestrebt, die Zufriedenheit unserer Kunden jeden Tag aufs Neue weiterzuentwickeln; für die permanente Optimierung brauche ich einfach die entsprechende Einstellung. Auch auf unterschiedliche Gesprächspartner muss ich mich kommunikativ einstellen können, so zum Beispiel mit Führungskräften und Mitarbeitern. Nicht zuletzt sind globale Konzernvorgaben auch auf lokale Rahmenbedingungen anzupassen. Für alle diese Aufgaben braucht man Belastbarkeit, Selbstdisziplin, integrative Fähigkeiten und emotionale Ausgeglichenheit.
Was macht Dein Team aus?
Unser Team hat Spaß an der Arbeit, was auch am kollegialen Zusammenhalt, ausgeprägter Hilfsbereitschaft und einem offenen, ehrlichen Umgang miteinander liegt. Wir können uns aufeinander verlassen und reagieren flexibel auf neue Entwicklungen. Leider ist nicht immer genug Zeit für entsprechende Team-Events, doch daran zu arbeiten, ist sicher eine fortlaufende Aufgabe.
Warum passt Dein Arbeitgeber zu Dir?
Mit seinem hohen Bekanntheitswert in der Branche und guten Image bietet IQVIA™ einen hohen Identifikationsgrad mit der IT-Lösungswelt und stellt die Kundenkommunikation ins Zentrum. Das Zusammenspiel von sympathischen Kolleginnen und Kollegen und einer modernen IT-Organisation, die auf den Einsatz praxiserprobter und bewährter Standardverfahren baut, um wirtschaftlich und qualitätsbewusst zu arbeiten, gibt mir in meinem Berufsleben einfach ein gutes Gefühl. Vom Standort Bensheim aus betrachtet, ist natürlich auch die Nähe zu meiner alten Heimat an der Bergstraße ein wichtiges Argument…
Wie hast du das Onboarding erlebt?
Bei IQVIA™ wurde ich mit Offenheit und großer Hilfsbereitschaft aufgenommen. Auch wenn wir etwa 70 % unseres Know-hows im Rahmen des "Training on the job" aufbauen, war das umfangreiche Schulungsangebot in meinem Bereich, auch mit entsprechender Zertifizierung, von großem Nutzen.
Worin unterscheidet sich IQVIA von Deinen bisherigen Arbeitgebern?
Neben der Unternehmensgröße sind es sicher die moderne Arbeitsausstattung (Technik und Räumlichkeiten) sowie die starke internationale Prägung mit Standorten in mehr als 100 Ländern, die IQVIA™ von meinen früheren Arbeitgebern unterscheiden.
Wie erlebst Du die Zusammenarbeit bei IQVIA?
IQVIA™ bietet ein sehr breites Spektrum an Lösungen für den Gesundheitsmarkt – "from molecule to market". In der Regel werden Kundenanfragen und –projekte abteilungsübergreifend beantwortet bzw. durchgeführt. Ich habe den Eindruck, dass es Führungskräften und Mitarbeitern durchaus bewusst ist, nur gemeinsam voranzukommen. Unternehmensweit ist eine ausgeprägte Bereitschaft zur Zusammenarbeit, zum Informations- und Erfahrungsaustausch zu spüren. Das ist gut so, aber auch erforderlich. Die ausgeprägte Kollegialität bei uns ist sozusagen der "Treibstoff" für diese Kooperation.
Was würdest Du Bewerbern auf Jobs in Deinem Unternehmensbereich raten?
Bewerber sollten gut informiert sein über das IQVIA™ Leistungsspektrum. Wichtig sind hier Aufgeschlossenheit und kommunikatives Verhalten, Teamgeist und Freude am Umgang mit "Mensch und Technik". In anderen Worten: Kundenorientierung und eine Affinität für IT-Themen sind gute Voraussetzungen.