Historically, Women's Health was defined narrowly to include diseases affecting only women. The focus, for example, was on conditions such as female infertility, endometriosis, menopause, or conditions associated with pregnancy. While these are still important health concerns for women, disparities between the sexes in terms of the prevalence and treatment outcomes of other diseases are gaining attention globally. Using IQVIA's Forecast Link, we compare the historical and forecast growth, and expected market size, of a sample of Women's Health issues in the figure below. A brief examination of the new launch and loss of protection (LoP) events that will shape these markets in the coming decade follows.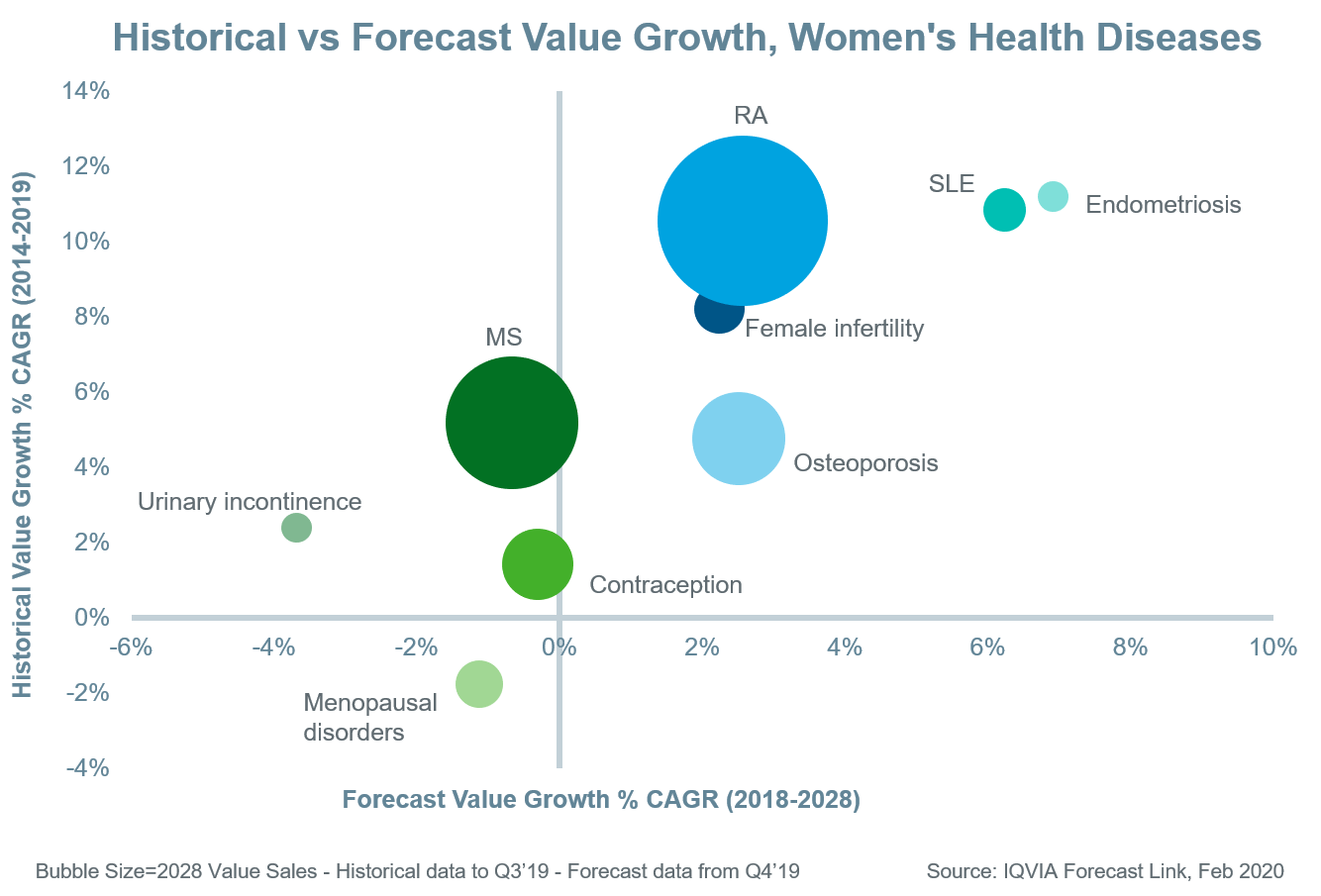 Contraceptive management
As highlighted by the Institute for Women's Policy Research, access to safe and effective contraception is one of the foremost Women's Health issues that affect women's economic outcomes. In 2019, the contraceptive management market was valued at approximately $7.0bn. Over the coming decade, six patent expiries will lower the cost of popular therapies and has the potential to improve access. Furthermore, new launches will include intravaginal and transdermal systems designed to improve administration compliance and convenience. Value growth trends will change from a CAGR of 1% between 2014 and 2019 to a CAGR of -0.3% between 2018 and 2028. By 2028, the market will have reduced in size to approximately $6.7bn in value sales.
Urinary incontinence
Although the prevalence of urinary incontinence varies widely in the literature, it is generally accepted that women are affected in greater numbers and to a greater extent than men in terms of impact on daily life. Over the next decade, nine brands used to treat the disease will lose patent protection. As a result, generic value share will increase from 18% in 2019 to 40% in 2028. While no treatment breakthroughs are anticipated over the same period, this will nonetheless lead to an estimated 38% reduction in the average implied price among therapies for urinary incontinence making treatment much cheaper for patients and healthcare systems across the globe.
Menopausal disorders
Like the urinary incontinence market, several brands used to treat menopausal disorders will lose patent protection over the next decade leading to the availability of less expensive well-established treatments. This will cause an 18% reduction in the average implied price in the market and a CAGR of -1.1% in terms of value between 2018 and 2028. In 2019, a novel 'bio-identical' version of estradiol and progesterone became available in the USA. Bio-identical hormone replacement therapy (HRT) refers to products that are chemically identical to the hormones naturally produced by the body and are derived from plants as opposed to traditional HRT which are synthetic. Bio-identical hormones are unrelated to biosimilars which are alternative versions of biologics with high molecular complexity. Although there is no evidence yet that bio-identical hormones confer any advantages over synthetic versions widely available, the product is forecast to do well in the USA thereby offsetting value losses at a global level due to LoP events.
Multiple Sclerosis (MS)
MS is about three times more prevalent in women than men and consists of four main types which differ in their presentation and treatment approach. Between 2014 and 2019, the MS market grew in value by 29% driven by the availability of new disease-modifying therapies designed to reduce the number and severity of relapses reaching approximately $25.6bn. Growth in the market over the next decade, however, will slow considerably as key brands lose patent protection including an oral S1P modulator, an oral pyrimidine synthesis inhibitor and an intravenous integrin receptor antagonist. Revenue generated by new launches including a new and more selective oral S1P agonist and two intravenous anti-CD20 monoclonal antibodies will be outweighed by LoP events. It is estimated that the MS market will grow by a CAGR of -0.7% over the next decade and by the end of 2028 will reach $23.6bn.
Endometriosis
Uptake has been rapid for the first orally available gonadotropin-releasing hormone (GnRH) antagonist specifically developed for the treatment of moderate-to-severe pain associated with endometriosis. Launched in 2018, this development has improved administration by preventing the need for daily, monthly, or every three-month injections. Two other oral GnRH antagonist candidates are expected to launch by 2023 and with few high-profile LoP events on the horizon, the endometriosis market will grow faster than the total market over the next decade. Between 2020 and 2028, new launches and LoP events will have a +25% and -1% impact on baseline endometriosis value sales, respectively.
Rheumatoid Arthritis (RA)
The approval and use of orally administered Janus Kinase (JAK) inhibitors for the treatment of RA, a disease which affects women three times more often than men, continues to expand. JAK inhibitors block cytokine signalling, which is an important pathway in mounting an immune response. They can be used as monotherapy when methotrexate or biologic disease modifying antirheumatic drugs (DMARDs), such as the TNF inhibitors, fail or become intolerable, but also in combination with other DMARDs. Consequently, their availability has increased value and volume sales in the market considerably. Between 2014 and 2019, value sales and patient days of therapy increased by 65% and 19%, respectively. However, leading biologic DMARDs are expected to face increasing competition in coming years. With the availability of a rising number of biocomparables, the average implied price of biologic therapies will decrease by 9% between 2019 and 2028. Overall, treatment options, including lower cost therapies, will increase for patients.
Osteoporosis
Until recently, preventing bone loss and further clinical deterioration has been the goal when treating osteoporosis. However, a new sclerostin inhibitor capable of reversing the structural damage caused by the disease was launched in Q1 2019 for the treatment of post-menopausal women who are at high risk of fracture. This therapy is a welcome addition to the treatment armamentarium as evidenced by strong early uptake. Total value growth in the osteoporosis market will slow, however, due to the availability of biocomparable versions of parathyroid hormone analogues and RANK ligand inhibitors. Within the osteoporosis market, lower cost biocomparables are expected to gain a 14% global market share in terms of value by 2028.
Systemic Lupus Erythematosus (SLE)
SLE is a heterogenous disease affecting multiple organ systems producing a wide range of symptoms and is approximately nine times more common in women than men. Therapies for SLE such as NSAIDs, corticosteroids, antimalarials, B-cell inhibitors and CD-20 directed antibodies have helped to manage symptoms and prolong survival, but important unmet needs remain. Over the next decade, interleukin-13 and -23 inhibitors, JAK inhibitors and a novel calcineurin inhibitor will play important roles in addressing these needs. The availability of these therapies will offer patients new treatment options and drive value growth in the SLE market by a CAGR of 6.2% between 2018 and 2028.
Female Infertility
Between 2014 and 2019, the global female infertility market grew at a CAGR of 13% and 9% in terms of value and volume, respectively, driven primarily by the growth of follitropin alpha, follitropin beta and follicle-stimulating hormone/luteinising hormone products. These three molecules accounted for approximately 64% of market value sales in 2019. However, the market is expected to grow at a CAGR of only 2% in terms of value between 2018 and 2028 due to the availability of biocomparables and a lack of new launches. There are currently no products in late-stage development that are expected to change this trend.
Breast Cancer
Although breast cancer also occurs in men, it is a leading cause of mortality among women. The 2018 breast cancer market is estimated to be $20.2bn, with growth of nearly 70% since 2014. Although the market is split relatively equally between biologic and non-biologic therapies in terms of value, growth in the non-biologics sector was significantly greater between 2014 and 2019. The launch of the first CDK4/6 inhibitor in 2015 for HR-positive and HER2-negative disease, and in 2017, a new kinase inhibitor for the adjuvant treatment of early-stage HER2-positive breast cancer, helped to drive this growth. Furthermore, the anticipated launch in 2020 of a new HER-2 targeted antibody-drug conjugate for breast cancer is expected to be the most successful new oncology treatment in the coming decade reaching estimated sales of $4.0bn by 2028.
Conclusion
There is growing awareness and new research directed at the differences between men and women, not only in the prevalence of disease, but in treatment approaches and outcomes of disease management. Consequently, the definition of Women's Health has grown beyond gynaecology and obstetrics and includes conditions that affect women disproportionately compared with men. Within the next decade, innovative new drugs and lower cost alternatives to existing therapies will become available and improve the treatment of health conditions important to women. Some disease markets have matured with little innovation on the horizon, while others will experience more rapid growth than the total market fuelled by pioneering therapies.
IQVIA Forecast Link provides regularly updated and fully segmentable sales and volume forecasts across 10,000 products, 600 diseases and 73 countries. Gain insights into current and future market landscapes and power your strategic decision making via this single easy-to-use platform providing unrivalled breadth of coverage. To learn more, please view the Forecast Link video.