Introduction
Cancer care has advanced towards a new wave of personalization being tailor-made for an individual based on genomic makeup, ending the 'one-size-fits-all' approach of traditional medicine. Tissue/tumor/site-agnostic therapies are an important subdivision of personalized medicine. These therapies target specific genomic biomarker shared across different types of cancers regardless of their location and histology, unlike the therapies that target specific biomarker-positive tumors restricted to a specific organ or tissue. By eliminating the tissue restriction of tumor type, this new-age concept has revolutionized precision medicine.
The progress
Traditionally oncologists have treated patients with drugs based on the organ or tissue where the tumors originated. With advances in molecular diagnostics, it was anticipated that molecularly targeted treatments would be effective against a spectrum of biomarker-defined tumor types, rather than being restricted to the site of tumor origin. However, the molecular and cellular heterogeneity of tumor sites posed unique circumstances with regards to the population of patients who might benefit from it. The targeted therapies being developed could be directed towards specific genomic alterations in EGFR, ALK, ROS1, HER2, KIT, BRAF and germline BRCA1/2, but only for specific tumor types (e.g. ALK inhibitors in lung cancer with EML4-ALk fusion and HER2/neu blockage in HER2/neu-positive breast cancer). Equipped with the advent of immunotherapies and the discovery of tumor neoantigens, combined with the advances of high-throughput genomic sequencing, tissue-agnostic cancer drug development came to fruition.
In 2012, scientists at Johns Hopkins University (USA) theorized that tumors harboring alterations in mismatch repair genes producing large numbers of neoantigens that can elicit immune responses, should be particularly sensitive to immune checkpoint inhibitors that recognize these responses and stimulate a T-cell response. Their successful research paved way for the emergence of tissue-agnostic cancer therapies.
The biomarker targets of tissue-agnostic therapies
Some selected actionable cancer gene aberrations that are agnostic to tissue types are depicted in Figure 1.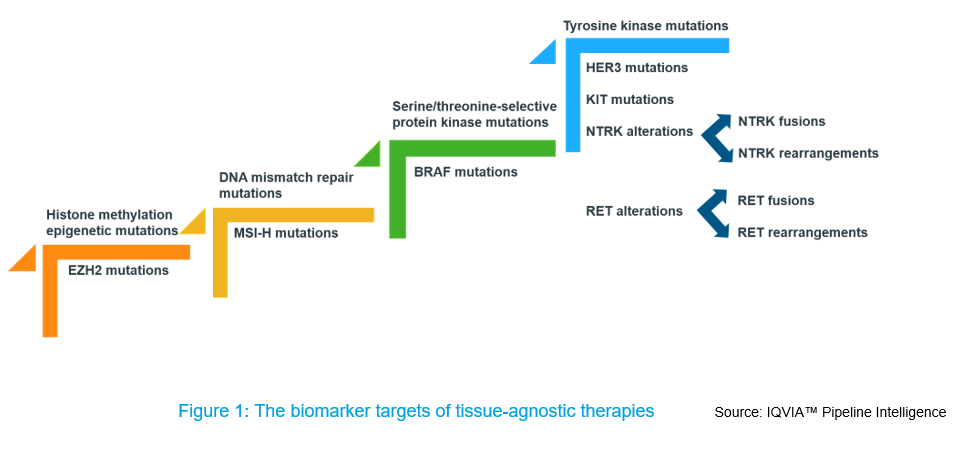 Challenges
Tumor-agnostic therapies challenge the existing diagnostic, regulatory and HTA frameworks, and market entry pathways. Patient screening may also be a hurdle as universal testing for rare biomarkers may not be covered through insurance due to high costs. These drugs also come with an expensive price tag. Testing of these therapies in a basket trial may be a long process due to recruitment hurdles owing to small sample sizes. Furthermore, a histology-independent development model is not going to universally work for all tumor-agnostic therapies – the same level of antitumor activity might not occur across different malignancies. Therefore, tumor-agnostic therapies cannot entirely replace conventional histology-based treatments.
The road to future
As we embrace a biomarker-based approach, the breadth and depth of precision medicine is gaining the much-deserved spotlight and is being recurrently highlighted in reputable cancer conferences in recent years – the American Society of Clinical Oncology (ASCO) annual meeting 2018 explored the theme of 'Delivering Discoveries: Expanding the Reach of Precision Medicine' and the American Association for Cancer Research (AACR) annual meeting 2019 explored the theme of 'Individualized Patient Care'. Basket trials, such as NCI-MATCH and NCI-COG Pediatric MATCH, that recruit patients of several tumor types with rare mutations to study responses across different biomarkers, are being conducted to investigate potential therapies and to provide data to expand the potential population of patients who can respond to a biomarker target. Patient recruitment in basket trials can be informed by employing cutting-edge comprehensive diagnostic panels that use next generation sequencing for genomic profiling. Collaboration among regulatory and HTA bodies, clinical investigators, physicians, pharma companies and patient groups is critical in bringing more tissue-agnostic therapies to bedside.
Register to the INNsight Newsletter for regular patent, pipeline and conference updates.