Leveraging knowledge, operational strategies, data, and relationships to accelerate recruitment while maintaining quality and timely delivery
IQVIA has an extended history of contributions to sickle cell disease therapeutic development efforts around the world. Many of the studies have been successful, with accelerated timelines and high quality results, despite facing and overcoming roadblocks and challenges.
Key Contributions from the Middle East and Africa: Therapeutic and regional knowledge and operational strategies to secure quality and timely delivery
One study in adult patients with sickle cell disease was conducted across 8 countries across North America, Europe, the Middle East, and Northern and sub-Saharan Africa. Involvement of these regions was critical to the success of the execution strategy; however, the sponsor was naïve to working in the Middle East and Africa and had some reservations. The study was further challenged by IP and device importation regulatory changes during start-up, central lab and sample oversight logistical issues, concerns around protocol compliance of young adults, and validation of a patient reported outcomes tool in new languages.
With our therapeutic and regional knowledge, complimented by operational strategies designed to address the study-specific challenges, we were able to secure quality and timely delivery for the study. IQVIA's expertise helped the sponsor navigate the local and regional complexities they faced. IQVIA engaged passionate KOLs and team medics in communication with and motivation of sites. Robust feasibility and validation of recruitment projections was closely managed with real time site input and historical experience. Flexibility was maximized to support competitive recruitment (e.g., equipment needs and IP transport to patients in rural areas). Effective risk management enabled adequate site support and data quality at high-enrolling centers and proactive planning for database lock based upon recruitment patterns and volume and impact on data cleaning efforts with internal and site staff.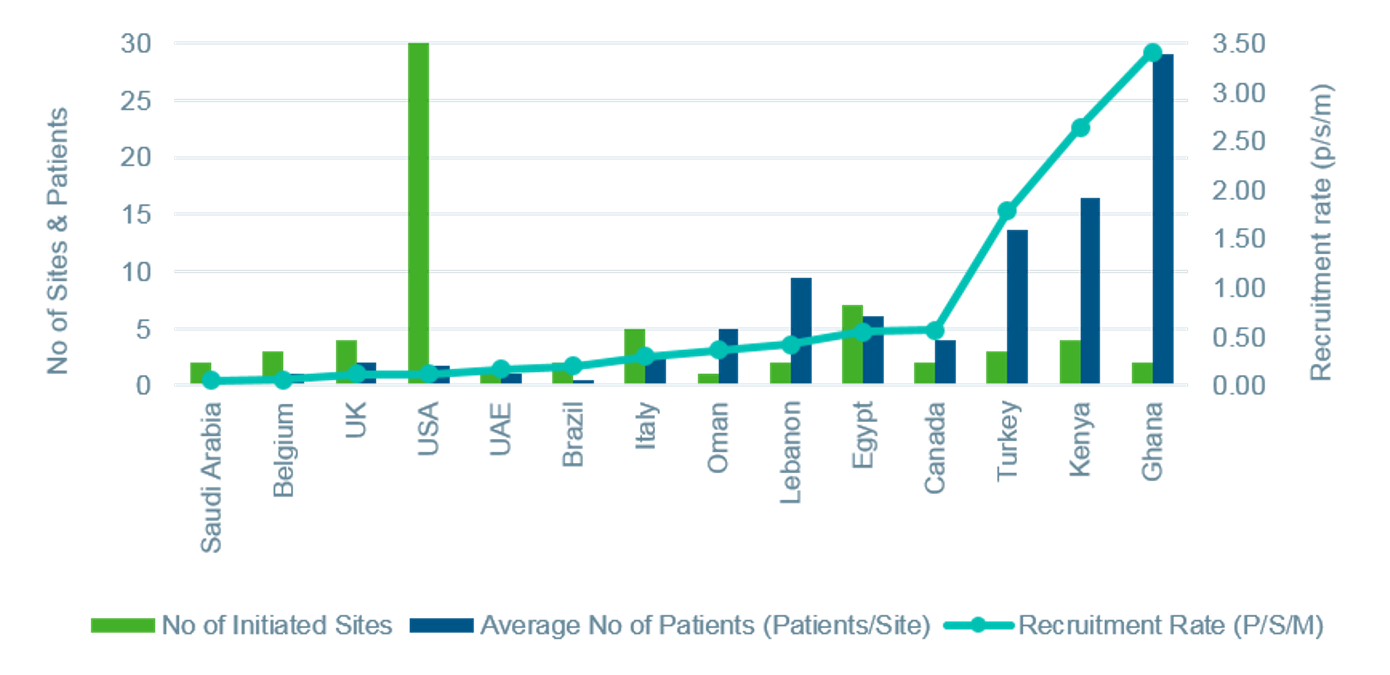 As a result of IQVIA's expertise and effective execution, the first subject was randomized approximately one month ahead of schedule. Involvement and engagement of countries with high prevalence of sickle cell disease was key to the successful delivery strategy. Increasing sponsor comfort and effectively managing regional nuances ensured the phenomenal overall recruitment productivity of the study with low screen failure rates. Ultimately, the final CSR was delivered on time and per the original target.
Another example further demonstrates IQVIA's insight and understanding of successful sickle cell study delivery. In a treatment study recruiting adult and pediatric patients, partnering with sites in the Middle East and Africa was essential to satisfying recruitment expectations. However, longer start-up timelines in some countries as well as malaria co-infection among the SCD population increased the degree of complexity, and an agreement had to be negotiated on several unique budget requirements (e.g., transportation and courier costs, vehicles to deliver IP to patients in rural areas, solar chargers and other protocol-required equipment).

IQVIA leveraged our relationships and experience to engage the right expert Middle East and Africa sites. Slower start-up in this region was balanced against higher recruitment and lower drop-out rates compared to Europe and North America. Sites in the Middle East and Africa also demonstrated the highest retention rates, preserving critical endpoint data. By understanding and identifying the capability and needs of these key sites, IQVIA helped secure the success of this important investigation.
Success in Latin America: Leveraging data and relationships to accelerate recruitment while maintaining quality
IQVIA also conducted a study recently, targeting 30 adult patients with sickle cell disease for an investigational treatment. The study was conducted over 12 months across several sites in Latin America including Honduras, the Dominican Republic, Panama, and Columbia. To reach the right patients, research naïve sites had to be engaged. Furthermore, start-up was slower than anticipated, resulting in an unexpected 5-month delay.
These complications understandably exacerbated stakeholder anxiety relative to successful completion of the study. To overcome the challenges facing the study, IQVIA implemented an enhanced communication strategy with close site contact and follow-up to support questions and quickly pre-identify and validate screening and enrollment expectations weekly. To better engage sites, communications were handled in English and Spanish, and site concerns were rapidly escalated and quickly addressed. Routine progress updates and newsletters were used to foster not only an environment of healthy competition among sites, but solidarity and celebration of joint success in achieving the study's overarching goals as well.

In the end, IQVIA's efforts, through its close local relationships and its data capabilities, resulted in the recruitment of 34 patients over six months, with a net acceleration of one month relative to the original timeline. Moreover, the screen failure rate was significantly lower than anticipated (14% reduction).