Europe's Biggest Biosimilar Year Ever
By the end of the year, the European Union will have welcomed two new exciting biosimilar molecules into the single market. In addition to the much-anticipated adalimumab (Humira) launches, cancer care will be enriched with cheaper trastuzumab (Herceptin) options.
Up until 2018, over 45 biosimilar products (for 15 biologic medicines) had been approved but none so far for medicines targeting solid tumours. For patients, this is good news as evidence in some markets points to an increase in volume usage of molecules from a biosimilar entry, not least in cohorts where physicians have been exposed to biosimilars in the past.
In EU5 countries (France, Germany, Italy, Spain, UK) alone, biosimilars present potential savings of €10bn between 2016 and 2020 through therapies targeting diabetes, autoimmune and oncology amongst others.
Payers are likely to experience a relief of pressure from their budgetary constraints from these entrants and they will seek to maximise cost benefits by swiftly adopting the largest entrants, amongst them the breast cancer heavyweight Herceptin (trastuzumab) which was launched in May 2018.
Looking ahead, Amgen has succeeded in getting the first Avastin (bevacizumab) biosimilar Marketing Authorisation (MA) granted for its product Mvasi. Both Herceptin and Avastin generated a combined €3.3bn in the EU (MAT Q2 2018) so it is no surprise that stakeholders are keeping a close eye on biosimilar uptake.
Marketing Authorisation (MA) holders
Of the current crop of oncology biosimilars, Samsung BioEpis and Celltrion hold the most MAs in the EU followed by Sandoz. The dominance from the Korean companies, particularly Celltrion, has been helped by strategic partnerships with commercialisers, such as Mundipharma, who are adept at navigating the European market access landscape. Mundi had to overcome unique commercial hurdles. For Truxima (rituximab), short treatment durations meant that switching was not as important as with the anti-TNF therapies. Explaining extrapolation was Mundi's priority as 66% of rituximab use was in diseases with "no Truxima data". Their strategy for Herzuma (trastuzumab) was based on reversing the originator subcutaneous strategy and so they focused on engaging HCPs.
European Union Marketing Authorisation holders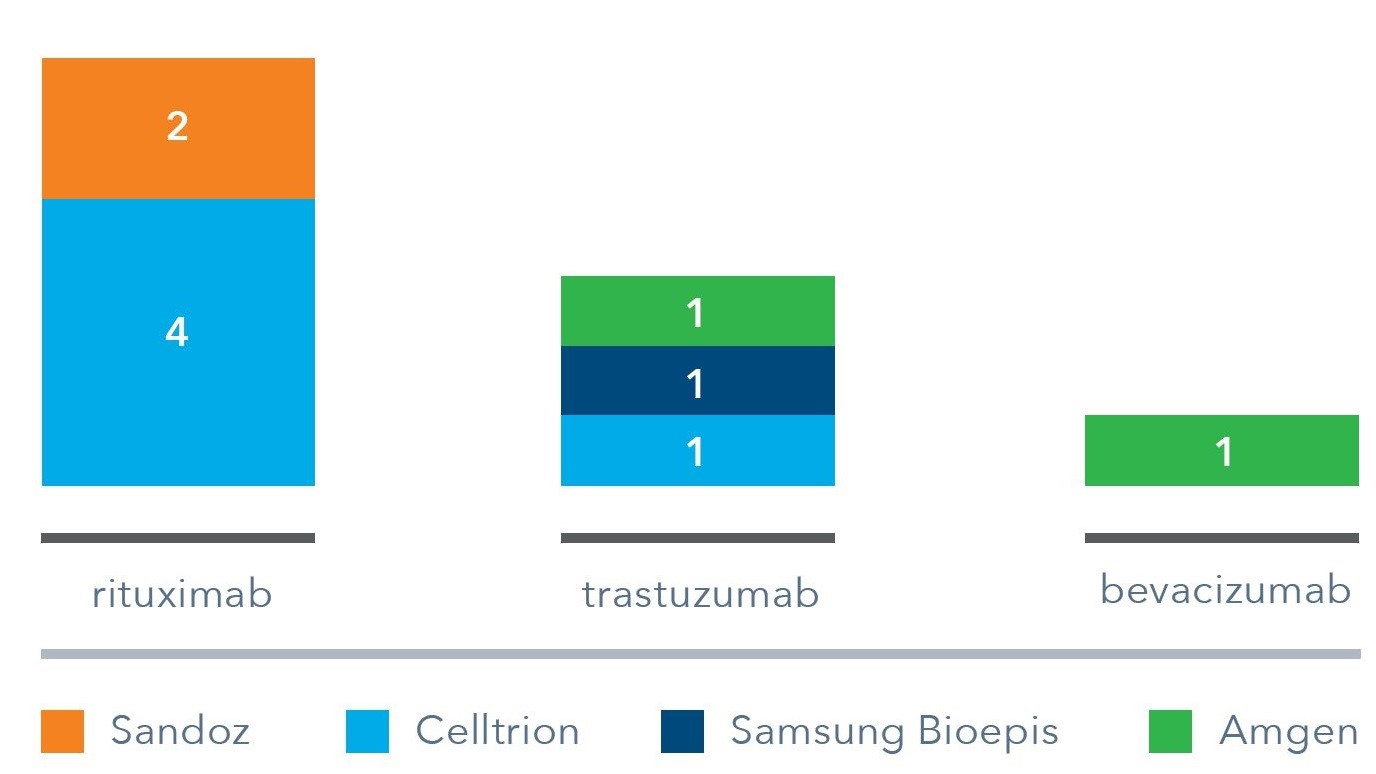 Interestingly, several MAs with varying indications have been granted for the same source molecule. This strategy allows a manufacturer to access countries where certain indications remain protected. It is unlikely manufacturers would allow various partners to commercialise its MA variants in the same market however, as this could erode its competitive position.
Defence Strategies
No doubt as Avastin also faces protection loss (EU Q1 2022), bringing Roche's third blockbuster oncology product under threat of biosimilar erosion, it will hope to retain market share across its portfolio. Roche has reformulated MabThera and Herceptin in the hope of releasing a favoured subcutaneous (SC) method of administration.
The defence strategy of switching patients to single-dose subcutaneous Herceptin, with its increased convenience for patients and physicians, and time-saving for hospitals is now approaching 50% of EU5 market by share of treatment days. The reformulation strategy seems to be effective in shrinking the market available for trastuzumab biosimilars as physicians can treat multiple patients with a less-invasive therapy in the time it would take to treat one patient intravenously. Importantly, there is a sense amongst physicians that switching back to the IV form would be unlikely to happen.
Uptake in Treatment Days, EU5 countries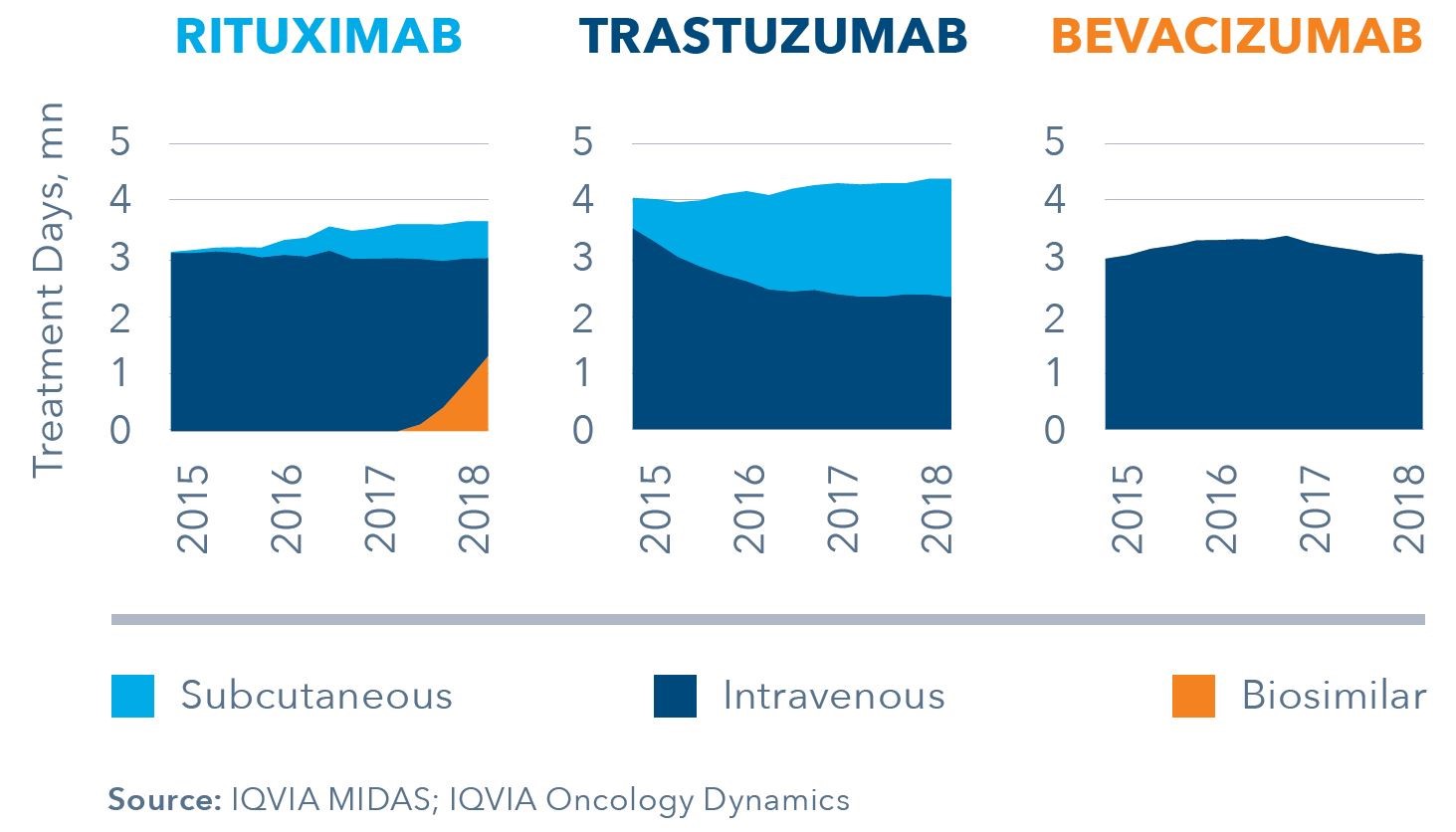 However, country variations do exist, not least with the stark difference in subcutaneous adoption rates between the UK (70% SC Herceptin) and Germany (20% SC Herceptin) as measured in July 2018. UK adoption rates have been helped by VAT advantages to the hospital in prescribing the SC version coupled with initiatives such as home-care use and administration by third parties, such as pharmacies (initiated by LloydsPharmacy).
Trastuzumab Volume Share in Treatment Days (2018)

Some UK hospitals took a harder stance and had been actively reintroducing the IV form months prior to trastuzumab biosimilar launch to avoid complicating discussions with their patients on switching back. This is interesting, not only as switch-backs have been occurring even though it adds capacity and tax burdens, but because this has gone counter to patient convenience.
Indications and Usage
Players will have to get to grips with a complex stakeholder landscape, especially for products where prescribing is split across multiple indications requiring multiple physician specialties as we see for bevacizumab. Moreover, the specific usage by line of therapy and stage of disease will add a level of complexity rarely experienced with other biosimilars to date.
Real World Indication Split, EU5 Countries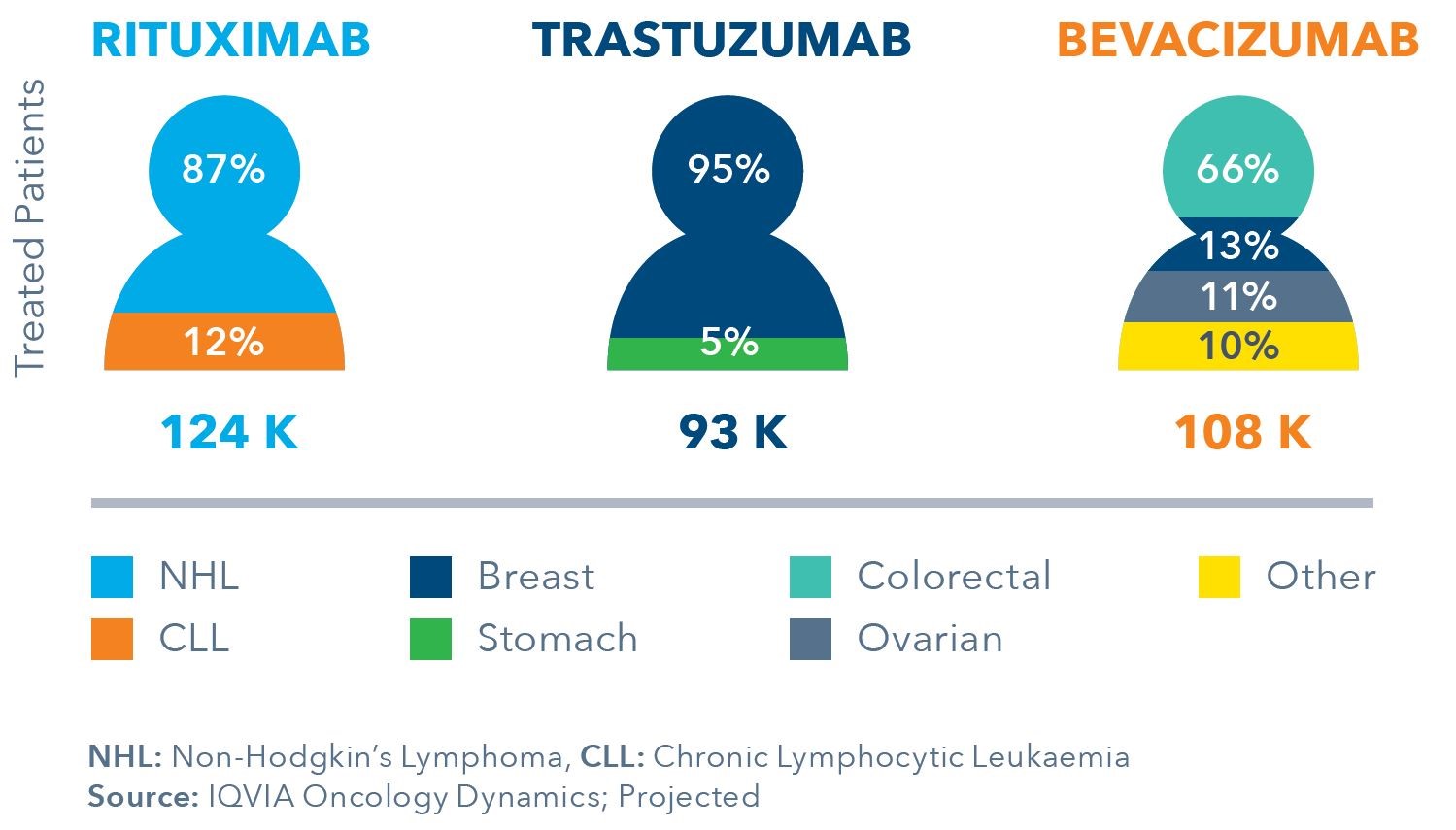 As biosimilar launches bring with them increased overall molecule utilisation, including the originator, some interesting real-world dynamics will come to play. The mix of usage will likely change, with biosimilar molecules, and may reshape clinical practice. Firstly, patients may start biologics earlier, giving biologics a different stage in the disease journey. Secondly, biosimilars may be prolonged in their current line on therapy prior to progression to a succeeding line.
Real World Usage, EU5 Countries
The drivers behind these dynamics will be primarily economic as hospitals attempt to contain costs but the increased choice for physicians will play a large part. It is here where a deep understanding of local clinical practice and physicians' prescribing behaviour needs to inform effective, targeted commercial strategies.
Promotion
Although being first to market is a clear advantage in most cases, there are exceptions; with some countries seeing winners emerge from the third launch. There is a dynamic at play here: the investment poured in from the market maker to convince physicians and regulators to adopt biosimilars may reduce their margin flexibility, which in turn may impact the extent of promotional investment they can afford. Subsequent entrants will face a shaped market, and this could work to their advantage.
As such, commercialisers are constantly looking to adopt an effective promotional strategy. Digital tools will be key to achieve volume and frequency at a lower cost base than traditional face-to-face interactions.
However, originators are still outspending biosimilars when it comes to promotional activity.
Rituximab Promotional Activity, EU5 Countries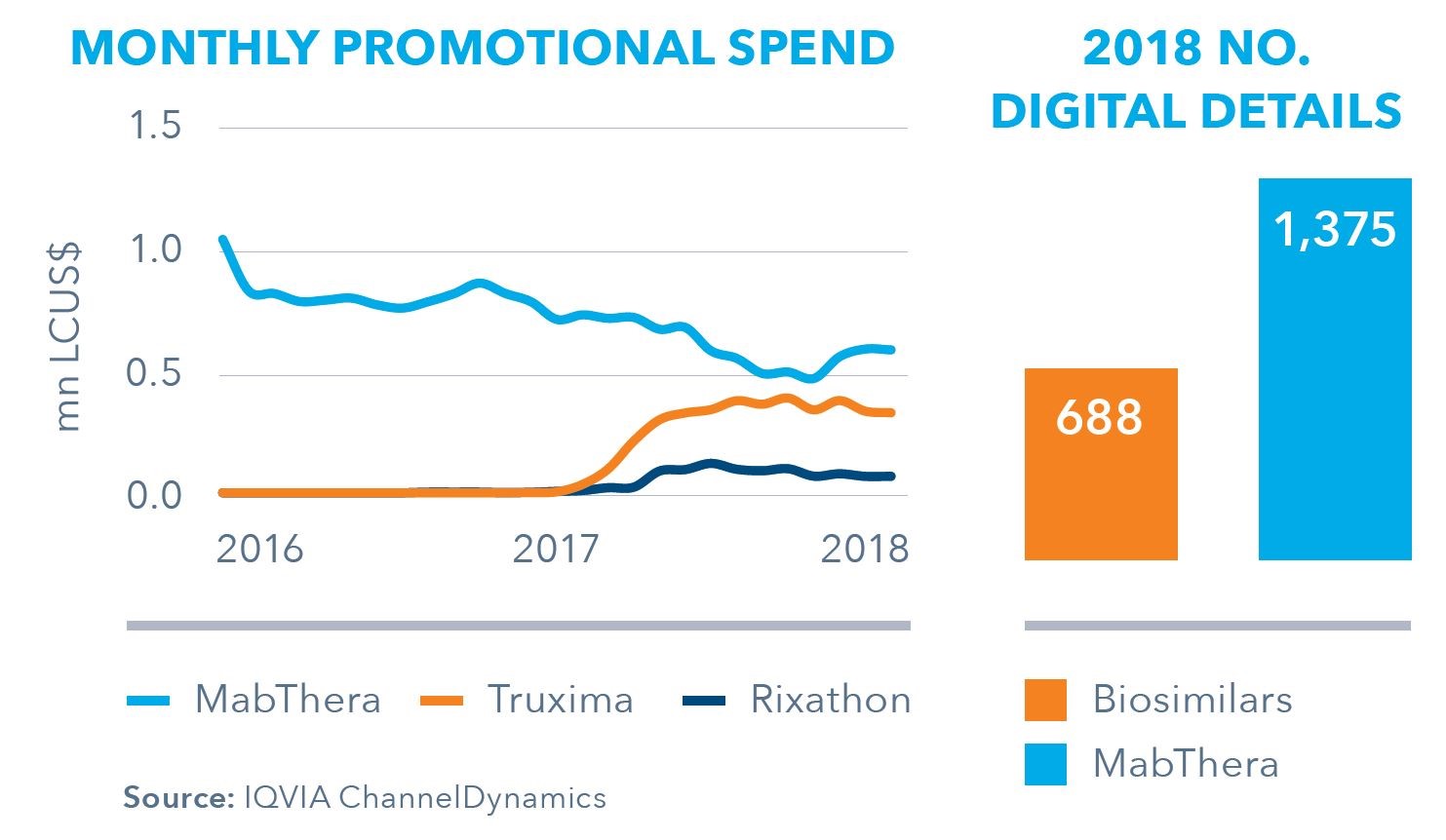 Over the year prior to rituximab biosimilar launch in EU5, promotional spend for MabThera halved as Roche reigned in costs, but still hovered higher than spend by biosimilar commercialisers. Furthermore, in 2018, the number of digital details in EU5 for MabThera was double that of all biosimilars combined, demonstrating there is still plenty of room to manoeuvre for biosimilar commercialisers to increase their digital competitiveness.
Final Thoughts
With novel oncology classes losing protection in the near horizon, new groups of oncologists will be exposed to biosimilars. It is necessary for biosimilar players to use all available tools to monitor and inform positioning strategies to adapt to the individual market dynamics. This is especially the case for oncology, where complexities in multiple prescribing physician specialities can influence the drivers of uptake.
The economics of the biosimilars system are a common thread which drives all these behaviours in the healthcare system, even to extent of adversely affecting patient convenience albeit with the same outcomes. Increasing overall launch and uptake efficiency in Europe is important to all stakeholders involved, not least for patients who will benefit from greater access to medicines.
This article expands on an infographic available soon.