In June 2018, the Belgian government released the first results from the 2017 transparency reporting, mandated by the Belgian Sunshine Act. The law requires both pharmaceutical and medical device manufacturers to disclose interactions with healthcare professionals (HCPs), healthcare organizations (HCOs), and patient organizations (POs) whether for human or veterinary purposes.
Under the Belgian Sunshine Act, transparency obligations are now mandatory for all in-scope companies. Reports must be submitted for the previous calendar year by May 31st via the betransparent.be platform. Research and development spending reports may aggregate all R&D-related transfers of value; however, all other types of transfers of value, granted directly or indirectly, from Belgium or elsewhere must be reported for each covered entity.
The first results of the mandatory 2017 transparency reporting period have been published. Key figures include:
530 pharmaceutical and medical technology companies submitted transparency reports.
14,617 recipients are identified, including 11,800 HCPs and 2,600 HCOs.
Together, Life Sciences companies spent €203,271,730 in 2017 in collaborations with HCPs and HCOs in Belgium. Relative to the 2015 and 2016 voluntary disclosure periods, this represents a 19% and 23% increase in total monies reported.
Thanks to the required fields of "type of spend" and "profession", the public has a better insight into the relationship between industry and health care providers and organizations. Specifically, these collaborations can be divided and understood as follows:
Breakdown of Type of Spend: 2017 Reporting Period Belgian Sunshine Act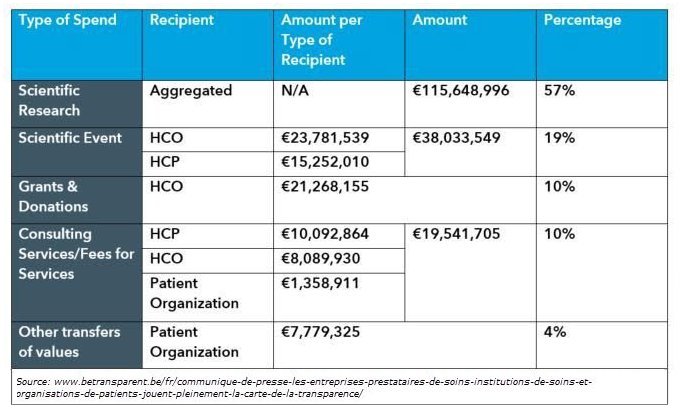 Transparency data shows scientific research accounts for 57% of industry spend, while specialist doctors account for 65% of referenced professions. Specialists in the fields of cardiology, internal medicine, and orthopedic surgery were referenced most frequently in 2017 data, while the professions of dentistry and medical imaging technologists were referenced the least. These figures clearly indicate the majority of industry funds were given to specialist doctors, devoted to scientific research. In a very distant second, we see Scientific Events receiving 19% of total funds.
Professions Most Referenced: 2017 Reporting Period Belgium Sunshine Act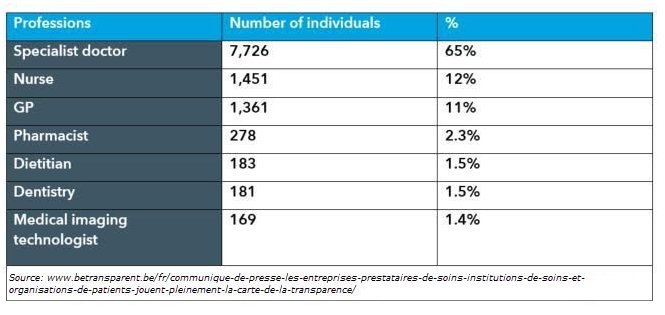 To comply with the requirements of the Sunshine Act, companies must collect personal data of European HCPs, including their name, occupation, contact details, and unique government identifiers. Though it was previously mandatory to obtain an HCP's consent under the voluntary industry association codes of EFPIA, the new legally binding requirement supersedes any industry codes.
Before the implementation of the Belgian Sunshine Act transparency obligations were only mandatory for member companies of EFPIA. During the period of voluntary disclosure, total amounts disclosed were:
2015 data disclosed in 2016: €138 million (Total amount disclosed)
2016 data disclosed in 2017: €170 million (Total amount disclosed)
From the date of entry into force of the Sunshine Act, companies are no longer required to obtain consent for disclosure of covered HCPs, HCOs and POs. Companies should, however, inform beneficiaries correctly about the publication, when collecting their personal details, in order to comply with both Belgium and GDPR data privacy requirements.
Understanding the complexity of the interplay between transparency reporting obligations and data privacy requirements is complex. IQVIA legal experts can take ownership and accountability for managing your journey toward full compliance. Our Aggregate Spend software provides a solution for meeting Belgian and global transparency reporting requirements. For further information, about our technology solution, please reach out to see how we can make transparency disclosure easy.
Source:
https://www.betransparent.be/fr/communique-de-presse-les-entreprises-prestataires-de-soins- institutions-de-soins-et-organisations-de-patients-jouent-pleinement-la-carte-de-la-transparence/