All participants in health care systems stand to benefit from the contributions of digital health – to improve outcomes, increase patient convenience and reduce costs – yet much work remains to be done to move digital health into the mainstream. An evidence-based and deliberative approach is needed to build evidence of value, balancing any excessive hype or enthusiasm.
An IQVIA Institute for Human Data Science analysis suggests that if the NHS used digital health apps in five patient populations where they have reduced utilization of acute care (diabetes prevention, diabetes, asthma, cardiac rehabilitation and pulmonary rehabilitation), this would save £170 million per year and improve health outcomes. If this level of cost saving – amounting to 1.1% – is extrapolated to total NHS expenditure, total cost savings of around £2 billion per year could be realized.
Cost Savings Associated with Using 5 Clinically Validated Apps Across 5 Initial Indications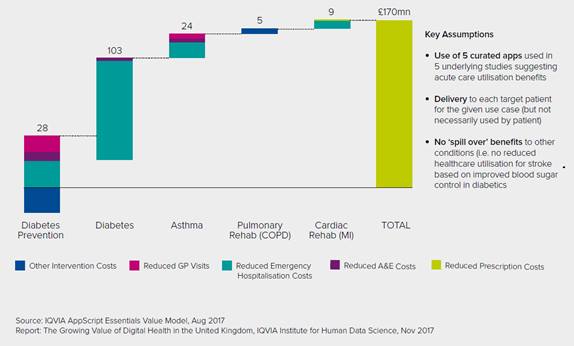 While analyses of the digital health landscape published by the IMS Institute for Healthcare Informatics in 2013 and 2015 found evidence to be scarce and the value of digital health difficult to measure, this has now changed. The benefits to patients are becoming far clearer.
Worldwide, over 318,000 health apps and 340 consumer wearable devices exist. Clinical evidence of app efficacy comprises at least 571 studies, including 234 randomized controlled trials and 20 meta-analyses. High-quality apps — those with characteristics such as high patient ratings, frequent updates, connectivity to sensors, endorsements, and promising clinical evidence — now exist for each major type of health care use.
Yet, only around 8% of studies of app efficacy to date have taken place in the NHS, based on research from the IQVIA Institute. One reason may be the relatively low level of venture capital investment in UK digital health companies, which stands at only 3% of the global total, based on research from DigitalHealth.Network. Another may be the fact that some digital health entrepreneurs report that NHS clinical commissioning groups either do not require or will not allow publication of results from pilot studies they sponsor. This poses a problem because institutions such as NICE typically prefer to base decisions on clinical evidence of value in the NHS.
The US has seen much progress in developing evidence through both observational and randomized trials, enabling practical assessment of app quality from both patient and provider perspectives. Progress is also being made in the UK, where the NHS Apps Library (https://apps.beta.nhs.uk) lists 46 apps that have successfully navigated the new Digital Assessment Questions (DAQs) to secure an endorsement as 'trusted apps' for use by patients and clinicians. Promising steps include publication of privacy and security guidelines (in the form of the DAQs), programs such as the NHS England Innovation and Technology Tariff to address patient access, efforts to align digital health programs with providers' incentive structure, and interoperability initiatives to integrate apps into the physician workflow.
Patients in the UK are expressing interest in mobile health, with one survey finding that 36% of patients use health apps,1 and a second survey showing that 97% of 100 UK adults wanted the NHS to provide access to digital health technologies, including the ability to book mobile app video appointments.2 There remains scope to build enthusiasm from the UK payer and provider sides, based on the availability of tools and evidence, to transform the way care is delivered and value is provided to patients in this highly cost-effective manner.
Possible approaches for the NHS to resolve the fundamental tension between the extensive clinical proof for digital health apps outside of the NHS, and the lack of evidence from within the health service, include:
Do nothing: start from scratch by waiting for local startups and global digital therapeutic leaders to sponsor studies within the current NHS infrastructure
Bridge the gap: seek out global digital therapeutic leaders, connecting them to promising study opportunities, and enabling generation of local, real-world evidence
Improve study efficiency: introduce a new infrastructure for enabling Digital Therapeutics research to occur better, faster, and cheaper in the UK than elsewhere.
Since the first option – simply waiting – would delay the benefits of digital health to the NHS, the most promising solution is likely the combination of the second and third options. The NHS can proactively engage global leaders with expertise in evidence generation, while also encouraging development of new platforms to dramatically lower the cost and speed the recruitment for local clinical studies. Timely action would enable the NHS to realize the benefits of clinically proven digital health apps – namely Digital Therapeutics – and make the NHS a world leader in this exciting and rapidly evolving sector.
References
1 Accenture Consulting. Patients want a healthy dose of digital. 2016. Available from www.accenture. com/t00010101T000000Z__w__/gb-en/_ acnmedia/PDF-27/Accenture-Patient-Engagement-Survey- Infographic-UK.pdf
2 Now Healthcare Group. UK patients demand access to digital health apps through NHS choices. 2017 Feb 7. Available from: http://www.nowhealthcaregroup. com/2017/02/07/uk-patients-demand-access- digital-health-apps-nhs-choices/