What is digital engagement?
Evolving digital capabilities have enabled pharmaceutical companies, healthcare practitioners, providers and patients to proactively connect with, understand and support each other. This can be over passive channels like emails, SMS, banner ads or interactive channels like chatbots and apps etc., through the use of light content (ads, banners) or rich content (games, articles). Digital engagement provides the value that HCPs and patients seek across dimensions.
For pharmaceutical companies, this has opened a plethora of opportunities to interact with HCPs and patients, and understand and influence their behavior.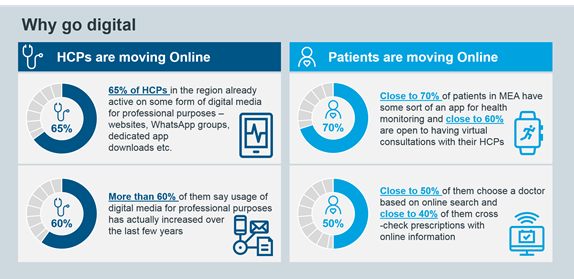 In addition to what the HCPs and patients have said, digital heads of top pharmaceutical companies in the region are exploring ways to engage their customers digitally. It is becoming more important for pharmaceutical companies to equip HCPs and patients for better safety, efficacy and experience, ultimately leading to better health outcomes. It is no longer a choice of "whether to engage or not?" but "how to engage?"
Building block 1 – approach and strategy – is the most fundamental and often ignored foundation of digital engagement. It is tempting to start conceiving apps and jump into campaigns and talk about tools (e.g. Google Analytics, marketing automation tools, social media dashboards, etc.) without setting up the right plan and strategy for how those tools will be used, and why.
What we really need for designing good campaigns are implicit needs of customers as they move through their journey; needs that are hard to identify, are nuanced and need to be teased out through careful observation.
Customer journey mapping – a starting point for designing an effective campaign
Implicit needs are unstated and are difficult to capture in a survey. Survey respondents are not often cognizant of these needs but still feel them. It is important to focus on a good framework to tease out these nuances.
Techniques from design thinking can be used here to create and enrich a customer journey diagram. The underlying principle of design thinking is that researchers need to empathize with customers to figure out their true needs. This is not a cliché, but a philosophy to designing anything – be it a campaign, a product or a service experience. Very rarely do companies truly empathize and live the customer's journey.
Customer journeys are hard to create because of limitations in approaching customers, and require much time and effort on the part of companies for investigation. So a practical thing to do would be to sequentially enhance a conceptual framework with more knowledge as and when it is available.
Here is a conceptual framework for a customer journey.
The above is a simple framework that can first be populated with knowledge harvested from within the organization. The logical steps in any care journey can be seen in the top row, while three cardinal outcomes that any customer tries to maximize are in the left column. In the context of healthcare, these cardinal outcomes would be:
Efficacy – trying to maximize health outcomes, quality of cure and recovery.
Economy – trying to minimize time and money spent on treatment and recovery.
Experience – trying to minimize emotional anxiety during the care journey.
A key component of organizational knowledge to initially populate the customer journey is to leverage the field staff of the company – people who interact with customers daily. In the case of HCP engagement, this would be the representatives and in the case of patient engagement, this would be the patient affairs or patient support and community outreach staff. However, they do need to be trained for picking up weak signals and subtle observations regarding HCPs and patients. This would involve training them on customer journey thinking.
Once populated, it becomes a good guide to enrich field work.
What would an immersive ethnographic exercise look like in healthcare?
Immersion is about empathetic observation; observation without judgement as to why an HCP or patient does what they do. Immersion reveals actions which are recorded into the framework and, in some cases, the reason behind an action, which might be obvious or not. For example, an HCP struggling to find a drug combination compatibility in his or her clinic is an observation that we would record in the box of Efficacy X Diagnosis. On deeper probing, it might be revealed that the reference material the HCP is using is not categorized well by patient condition. This is just a simple example of a recording. On average, a single immersive exercise might reveal about 5-10 key observations in one setting. The goal should be to maximize number of settings to live the customer journey. If an ethnographic exercise is being performed for HCPs, then attending an HCP conference, spending time at an HCP clinic or hospital or filling out administrative forms for an HCP are useful exercises that can yield more observations. These are all actions an HCP goes through as part of his/her journey. If an ethnographic exercise is being performed for patients, then accompanying a patient to the clinic or hospital as a caretaker, visiting the pharmacist with the prescriptions, filling up insurance forms and coordinating with the insurance company are all useful exercises to perform.
As the number of observations increase enriching the framework across settings and across the sample of customers, the next step is to process these insights to reveal opportunities for action. These become campaign objectives.
Things to keep in mind while processing observations from a customer journey mapping:
Involve outsiders if possible. People from outside the company but working in adjacent areas (e.g. community health workers, regulatory bodies, payers, health startups, etc.) bring useful perspectives when looking at data
Quality over quantity. It's better to have one or two truly value-adding insights that become opportunities for action or campaign objectives rather than many
Shift the lens in our minds – useful to have information on best practices from other industries which have exemplified digital engagement when viewing observations
What next?
Identified opportunities of action become campaign objectives from which a detailed campaign design follows. A campaign design would have the following elements:

Useful research during this stage includes social listening and digital landscape research involving social media listening, channels and keywords analysis by identified segments and analysis of existing digital properties.
The infrastructure, tools and techniques then help in executing these campaigns.
How can IQVIA help?
Rethink your approach to HCP engagement with technology and methodologies designed specifically for life sciences companies. To know more about how our technology can solve your specific needs and drive top performance, contact Ravi Akella or Raj S V through LinkedIn or write to IQVIAMEAmarketing@iqvia.com.