The Changing Landscape of Research and Development
The Changing Landscape of Research and Development
Innovation, Drivers of Change, and Evolution of Clinical Trial Productivity
Institute Report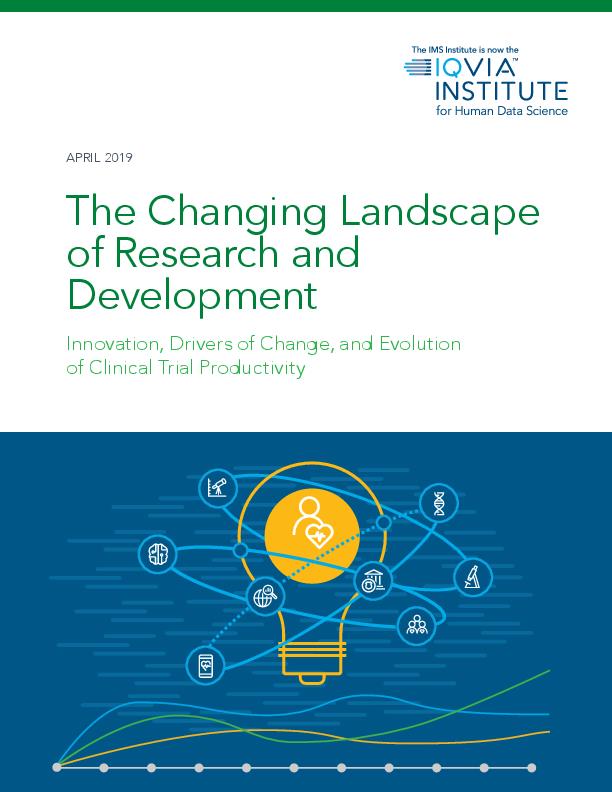 About the Report
The development of innovative medicines has evolved dramatically over the past decade. This study assesses the activity and landscape of research and development (R&D) in 2018, the productivity levels of the clinical development process and how key trial-trends will transform clinical development over the next five years. The features and development path of both newly launched therapies and pipeline therapies are examined along with shifts in the companies bringing these drugs to the market. This report puts forth a proprietary Clinical Development Productivity Index that reflects changes in trial complexity, success and duration over time. Eight key trends driving change in clinical development are explored and their expected quantitative impact on productivity through 2023 are discussed.
The research included in this report was undertaken independently by the IQVIA Institute for Human Data Science as a public service, without industry or government funding. None of the analytics in this report are derived from proprietary sponsor trial information but are instead based on proprietary IQVIA databases and/or third-party information.
On Demand Webinar
A new way to assess changes in trial complexity, success and duration: The Clinical Development Productivity Index
Join IQVIA Institute Executive Director, Murray Aitken, as he provides objective context and perspective around the complex research and development landscape.
Report Charts