Emerging trends in spend transparency for 2019
The global transparency landscape for life sciences companies seems to grow more complex each year. 2019 is shaping up to be no exception. National governments and industry associations continue to enact, update and revise regulatory requirements. To date, there are regulations or codes in 46 countries, and various requirements in the US at the state and local level as well.
IQVIA's compliance experts have identified four important spend transparency trends that should be on the radar for all life sciences companies, whether large or small, emerging biotech or long established.
Geographic expansion
Since the US Sunshine Act was enacted in 2013, the number of transparency reporting regulations around the world has exploded. Dozens of countries and industry associations have created their own versions of the Sunshine Act, including France, Greece, Ontario (Canada), South Korea, The Philippines, Australia and many others.
EFPIA (The European Federation of Pharmaceutical Industries and Associations) represents direct membership of 33 national associations and 40 leading pharmaceutical companies; collectively EFPIA provides the voice of 1,900 companies. In 2013, the organization adopted the EFPIA Disclosure Code, requiring member companies to publicly disclose payments and transfers of value (TOVs) to healthcare professionals (HCPs) and healthcare organizations (HCOs).
In just the past year, the seeming randomness of geographic expansion has included South America (Brazil, Colombia, Argentina), the Middle East (Saudi Arabia) and Asia (South Korea). This trend suggests an increase in geographic expansion on a global scale, not regional, and life sciences companies should prepare accordingly.
However, as companies prepare, they should note the lack of regional harmonization means every country and association has a unique set of rules for what must be reported, and how those reports must be formatted. While some countries' rules are similar to the US Act, others combine pieces from multiple countries, resulting in complex criteria that must be followed to the letter or life sciences companies risk falling out of compliance. That can translate into multi-million-dollar fines, imprisonment, loss of reputation and the like.
The regulatory landscape continues to evolve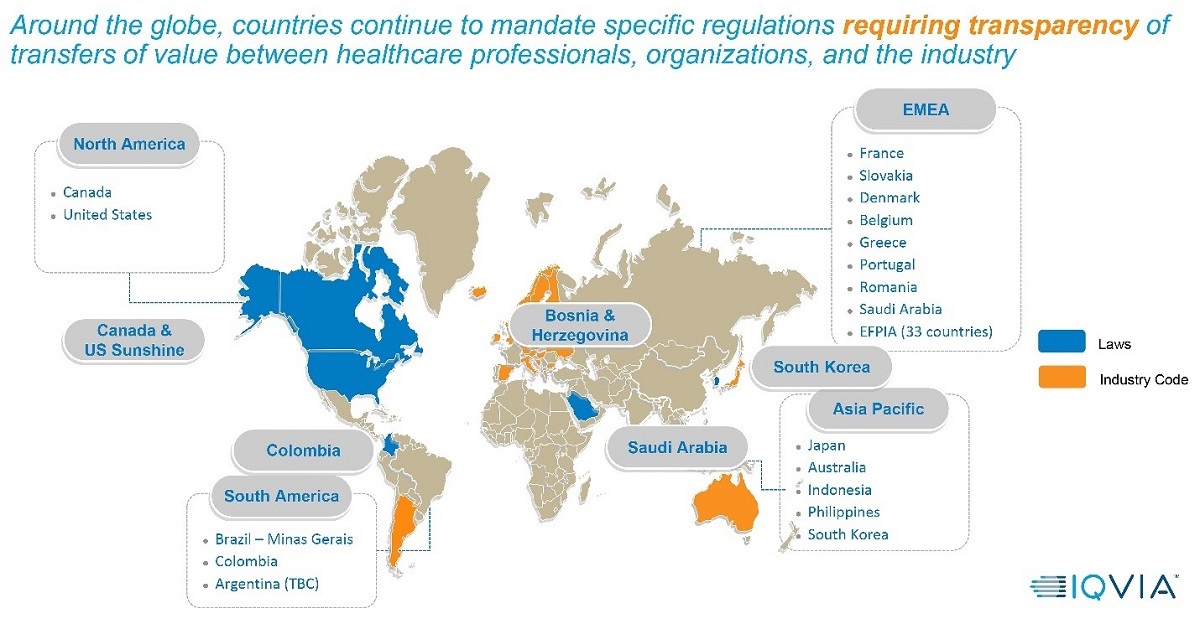 Broadening requirements
The definition of covered recipients differs vastly from country to country and from association to regulatory body. Keeping track of all these variables complicates reporting further.
In some countries, only engagements with HCPs/HCOs are required, but in others, the scope is much broader and can include pharmacists, nurse practitioners and third-party vendors.
As an example, California is suing AbbVie because they allege that AbbVie paid for registered nurses that it called ambassadors to help doctors with patients who were taking Humira. While the nurses were represented to patients as an extension of the doctor's office, they were trained to tout the drug while downplaying its risks, the state said.
Consent and data privacy
As companies think about how they will implement and manage these reporting requirements, they must also factor in emerging data privacy laws, particularly in the EU, where the General Data Protection Regulation (GDPR) prohibits sharing of personal or professional data about EU residents without their permission. California recently enacted its own version of GDPR and several other countries around the world are looking to adopt data privacy regulations.
This could potentially create reporting issues in which adhering to one rule will conflict with another, and will require input from subject matter experts to ensure companies are adhering to the laws.
Third party vendors and associated risks
Pharmaceutical, biotech and medical device companies continue to utilize third party intermediaries to manage engagements with HCP/Os. These intermediaries can include distributors, clinical research organizations, physician groups, travel agencies and logistics vendors.
With minimal exception, the onus still falls on the covered manufacturer to report indirect spend completely and accurately. Because of this reliance on third-party intermediaries to uphold the company's compliance standards, manufacturers have become more selective with the vendors they partner with. In some cases, this means leveraging relationships affiliates already have with a specific vendor on a global scale, or in other cases implementing a more robust third-party due diligence program to ensure these intermediaries are vetted prior to engagement.
This heightened priority on third party vendor management has provided another opportunity for compliance to partner with business stakeholders. Especially as new countries and jurisdictions enact transparency regulations, indirect spend from third party intermediaries will become more important as more of their interactions will need to be collected and reported. This evolution also enables further cross-border communication, as both business and compliance stakeholders will need to work together to ensure complete and accurate reporting is executed across affiliates.
21st Century solutions
These trends suggest that companies must become more agile in how they are managing spend reporting obligations. The vertical and horizontal broadening of required information and rapid expansion of new countries requires companies to have a nimble solution to address these needs. Companies must also start acknowledging how global risk is all connected, and that all solutions must be able to speak to each other. As such, many life sciences companies are embracing technology as the way to transform their decision making, and to streamline and manage the ever-evolving requirements. State-of-the-art platforms are able to automate the entire HCP engagement lifecycle while transparency reporting tools can capture, collect, aggregate and report global spend.
For instance, IQVIA's Global Compliance Platform includes modules that manage HCP/O engagement, transparency reporting, grants management and investigator initiated studies.
As a complement to the Global Compliance Platform, IQVIA offers its Third Party Due Diligence portal to solve the challenges of managing relationships and risks associated with external vendors.
To transform data privacy and consent collection and management, companies are introducing solutions such IQVIA Consent. It allows organizations to efficiently align processes and meet global requirements for the collection, storage and management of consent for personal data.
Equally as important as technology, it is important for life sciences companies to create, implement and manage compliant processes across the organization. Furthermore, they must educate and train their employees on the importance of adherence. It is imperative to partner with a trusted team of industry experts with the know-how and experience to guide them on the road to successful compliance.
From risk assessments and auditing and monitoring to commercial compliance program support, it is key to have not only experience with past regulations but insights into what comes next.
To learn more about IQVIA's healthcare compliance technology, consulting and managed services and how we can help you transform your decision making, visit https://www.iqvia.com/solutions/commercialization/compliance.