Experienced medical device clinical research teams
Developing medical devices and diagnostics brings its own unique challenges, including understanding regulations, standards and local laws which frame medical device development programs. Get the support you need to develop a robust clinical research strategy, overcome regulatory hurdles, access expert study design, and gain faster access to the market.
Your expert partner in MedTech clinical research
Your focus is medical devices. Ours is too. You deserve a partner that specializes in medical devices and diagnostics technology. A partner, that not only speaks, but understands the development, engineering, and clinical language of your teams.
We work across therapeutic areas, including new devices and drug-device combinations. Do you have an interventional product? Do you do software? Advanced materials? Drug coatings or elution? Diagnostics? Regenerative medicine? We work across therapeutic areas, and no matter what technology you specialize in, our skilled experts and dedicated operational teams have experience.
Unlike many contract research organizations (CROs), our global footprint and quality management system geared for MedTech delivers reduced overhead and research efficiencies. That means you can focus on innovations that improve patient care, knowing your research programs are in experienced hands.
IQVIA MedTech Clinical Solutions provides medical device support throughout the research lifecycle: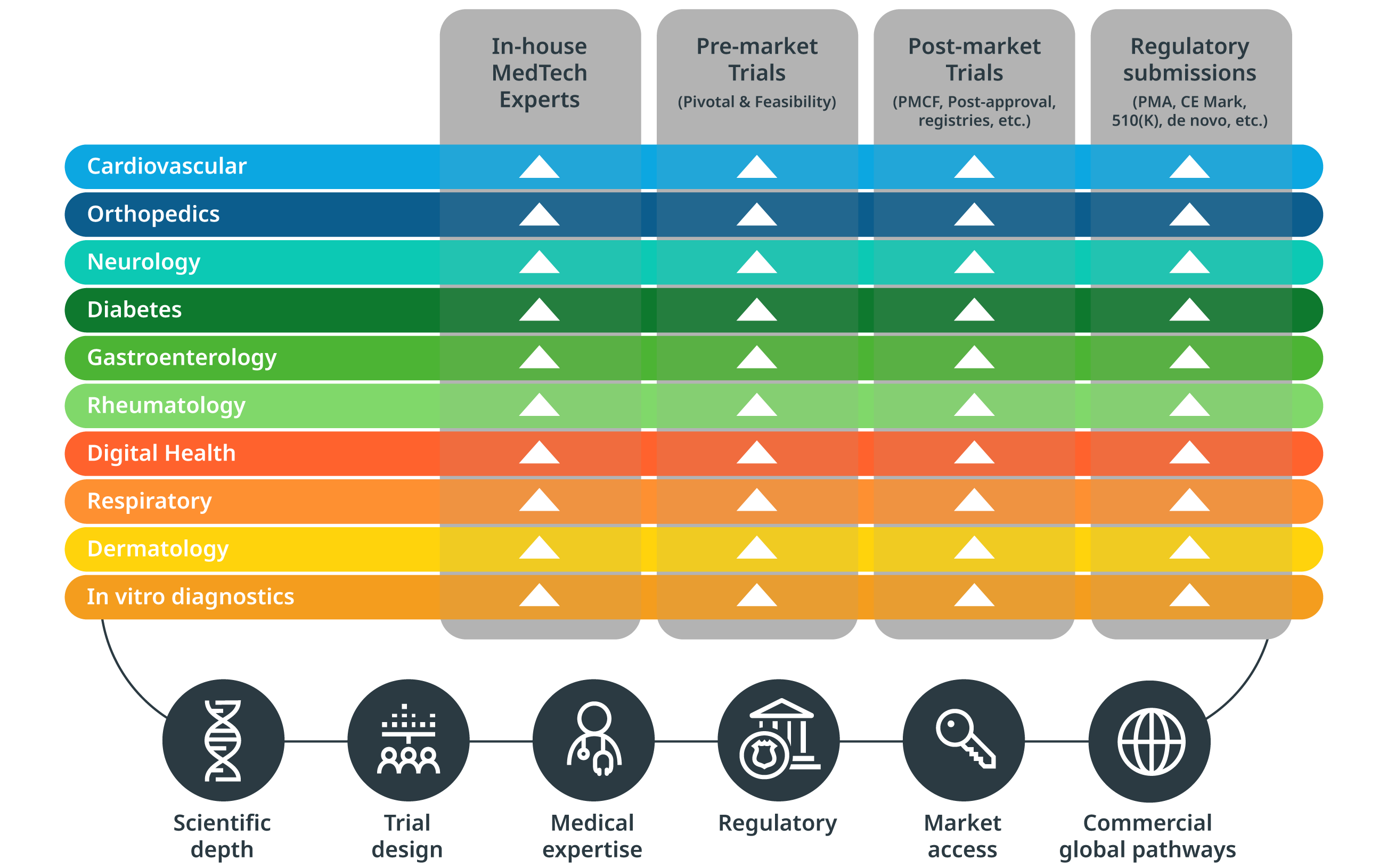 Expert medical device clinical trial design
Medical device research is unique. Successful and cost-effective medical device studies of safety, performance, and effectiveness are a core focus. All studies are conducted to ISO 14155, and safety reporting adheres to local standards for medical devices. What's more, our commitment to training ensures top-quality medical device expertise.
Experienced operational teams
Operational excellence in medical device trials sets IQVIA MedTech Clinical Solutions apart. Our clinical trial staff, project managers, and study monitors are trained and experienced in medical device research. We have a high-touch approach and allocate team members to your projects from a pool of device professionals. This approach enables our research staff to be ambassadors that enable your brand to grow.
Regulatory strategy: think globally, act locally
Our dedicated medical device and diagnostics regulatory affairs staff support interactions with regulatory agencies, and local review committees, covering pre-market and post-market surveillance projects. IQVIA MedTech's access to industry leading regulatory intelligence is at the heart of our centralized global strategic regulatory consulting services. Our global reach also allows us to put local regulatory experts at your fingertips to rapidly start trials.
Targeted solutions for MedTech
We understand that medical device research involves a complicated blend of engineering and science, with unique regulatory and operational needs. Whether you're planning a trial or building your strategy, our medical device experts can help.
Recruiting and Staffing
Looking for recruiting and staffing solutions for your organization?