IQVIA anticipates the value of the global asthma market will reach $29bn by 2029, representing a 59% increase and a CAGR of 2% between 2019 and 2029. This increase will result from steady growth in demand and the launch of new therapies. During the same period, global prescription volume is expected to grow at a CAGR of 1.2% and new combination inhalation therapies consisting of long-acting beta agonists, corticosteroids and muscarinic antagonists are anticipated to launch. The most significant impact on value sales, however, will come from the availability of new monoclonal antibodies. Although several leading brands will lose patent protection during the next decade, the availability of new therapies will generally offset the anticipated revenue losses. The upshot of increased volume demand and a higher average price in most regions will be increased value growth globally.
Revenues from new launches will offset losses from loss of protection events
The net impact of new launch and loss of protection (LoP) events will have a significantly different impact on forecasted value growth regionally. Although the net impact of events is positive across all regions, the impact of new launches is expected to be far greater than LoP events in AUNZ, MENA, APAC, Japan and the Americas. Conversely, the impact of LoP events is anticipated to be considerably greater in North America and Europe. As a result, events will impact value growth to a lesser extent in North America and Europe compared with other regions.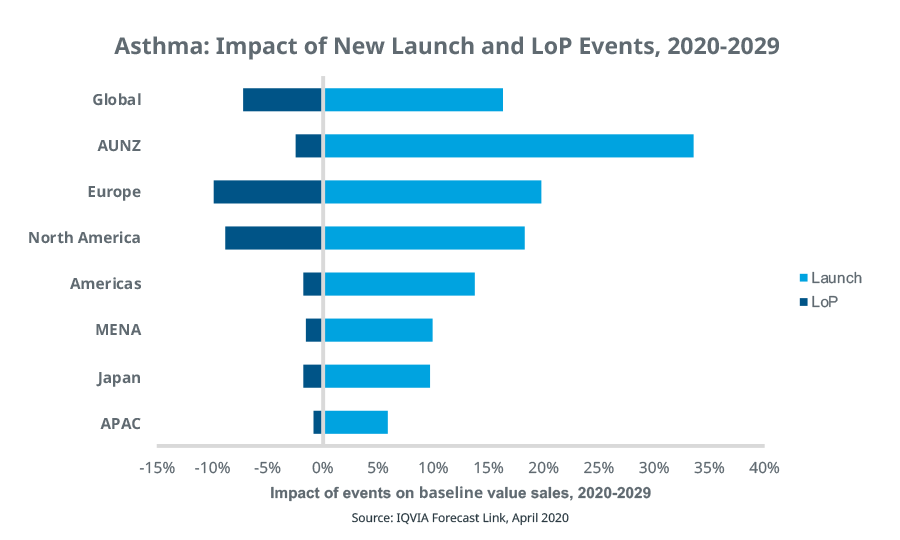 Using IQVIA's Forecast Link, we compare the historical and forecast growth, and expected size of the asthma market by region in the figure below. APAC, MENA, AUNZ and Americas are forecast to achieve higher value growth than North America and Europe due to a stronger net positive impact of new launch and LoP events. Although the net impact of events and volume growth are expected to be positive in Japan, this region will continue to experience negative value growth due to regular price cuts and continued negative implied price trends. Historical growth is stronger in all regions due in part to the strong uptake of severe asthma biologics.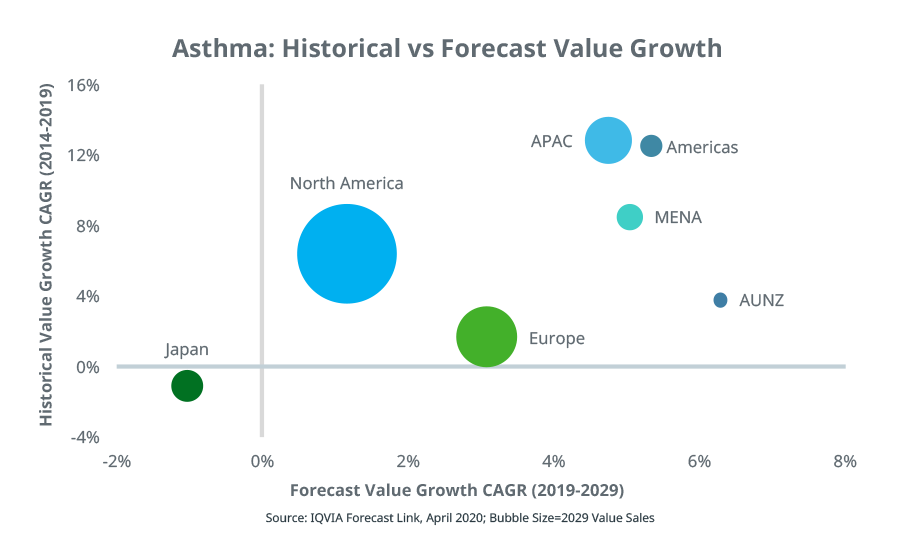 Biologics set to double value share over the next decade
Biologics administered via subcutaneous injection, and available as pre-filled syringes or vials, accounted for 20% of global asthma market value in 2019. The expected launch of new monoclonal antibodies and a raft of patent expiries for inhalation therapies will lead to a doubling of this share by 2029. Current asthma biologics exert their effect by inhibiting the activity of IgE and IL-5. These are mediators of inflammation in asthma and in the case of the latter, only seem to be effective in a subpopulation of patients with an eosinophilic phenotype. Two new biologics are expected to launch in the next decade including a dual IL-4 and IL-13 inhibitor and a thymic stromal lymphopoietin (TSLP) inhibitor. These new monoclonal antibodies are expected to be used in a wider population than existing asthma biologics and will increase the patient days and average implied price of asthma therapy. Furthermore, 17 inhaled asthma molecules will lose patent protection between 2020 and 2029 leading to the loss of approximately $10bn in revenue for this route of administration. Consequently, the breakdown of value sales by formulation will look quite different by the end of 2029.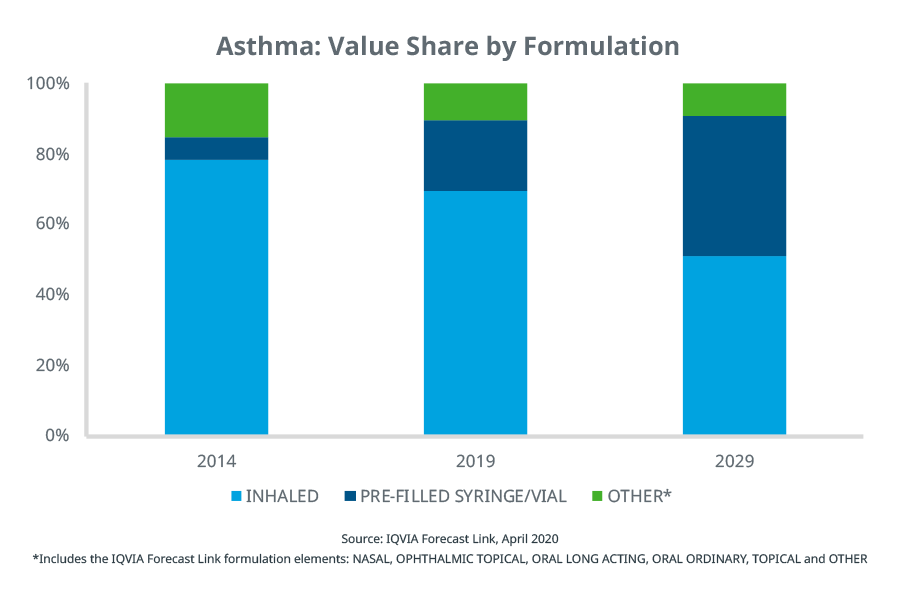 IQVIA acknowledges that there could be significant impacts to this forecast in the short term due to the COVID-19 pandemic but believes longer range events and trends will remain. Despite the pandemic, several new asthma therapies will become available over the next decade, and among these, new monoclonal antibodies interacting with novel targets such as IL-4, IL-13 and TSLP provide the best hope for improving upon existing treatments. As these products are expected to fulfil unmet needs and effectively reduce asthma exacerbations in wider populations, it is expected that they will drive value growth in the market. Since many key inhaled therapies will lose patent protection during the same period, less expensive generic versions will capture share of this segment and increase barriers for new inhalation therapies with similar mechanisms of action compared with existing inhalation products. The outcome will be a dramatic shift in the value share between inhalation and injectable formulations and positive value growth in most regions.
IQVIA Forecast Link provides regularly updated and fully segmentable sales and volume forecasts across 10,000 products, 600 diseases and 73 countries. Gain insights into current and future market landscapes and power your strategic decision making via this single easy-to-use platform providing unrivalled breadth of coverage. To learn more, please view the Forecast Link Video.