2018 – a banner year for NME approvals by the US FDA
2018 has been a rolling year for approval activity by the US FDA - the agency's Center for Drug Evaluation and Research (CDER) approved a record number of 59 novel medicines, known as new molecular entities (NMEs), which are processed through Type I NDA submission; this number is the highest in the history of US FDA approvals, surpassing a previous high of 53 NME approvals in 1996. For purpose of FDA review, the term NME applies to novel drugs approved under both New Drug Applications (NDAs) and Original Biologics License Applications (BLAs). The year 2018 peaks the chart of volume of NME approvals, as evident from Figure 1. From 2010 to 2018, the NME approvals by the US FDA averaged to 37 per year.
A watershed year for drug innovation
2018 proved to be a significant year for drug innovation as the NME approvals in the USA were outstanding not just for quantity but also for quality – there are many striking examples of NMEs that bagged the 'first-ever' or 'first-and-only' therapy for a particular indication, or were 'first-in-class' with a unique mechanism of action, or represented a newer treatment option for a niche group of patients for the first time in decades. The record high of approvals can be attributed to utilization of the expedited review program benefits offered by the FDA, thereby ensuring speedy approval of drugs. Of the NMEs approved in 2018, three-quarters (75%) were approved under Priority Review, four in total were approved under Accelerated Assessment, about one out of four (24%) received Breakthrough Therapy designation and about four out of ten (41%) received Fast Track designation.
Impact of approvals
As depicted in Figure 2, of the NMEs approved in 2018, about a third (20; 34%) were identified as first-in-class drugs, over half (34; 58%) were approved to treat a rare disease and 7 out of 10 (42; 71%) approved drugs received first ever worldwide approval in the USA.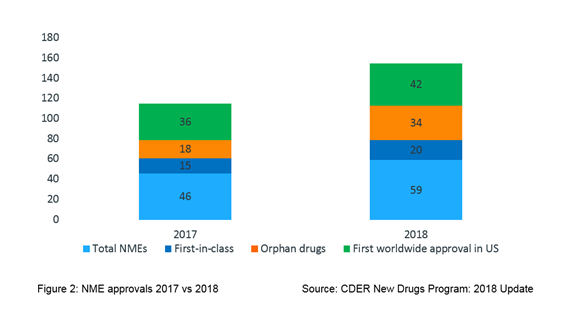 Conclusion
This year the US FDA has granted NME approvals at a sweltering rate bringing many novel therapies from bench to bedside. The variety in NME approvals will benefit various patients suffering from ailments ranging from rare disorders to common diseases. A trend of rise in development and approval of orphan drugs is evident – for the first time ever the majority of NMEs approved in 2018 are for the treatment of rare diseases. The US FDA is working at a swifter pace in reviewing regulatory filings and approving more drugs than the EMA. In 2018, 7 out of 10 drugs approved by the US FDA received approval first in the USA before anywhere else in the world. Also, the USA is primarily the first target market for companies to develop and file for approval of novel drugs compared with rest of the world. Speedy approvals can grant access to newer treatment options for patients. However, only the coming years can testify whether the impact of increased approvals of novel drugs will translate to safer, clinical- and cost-effective therapies that demonstrate evidence-based benefits in the real-world.
Register to the INNsight Newsletter for regular patent, pipeline and conference updates.