Over the past decade, artificial intelligence (AI) has become increasingly important as a disrupter in the future of medicine. Big data and advances in technology are driving opportunities for the application of AI and machine learning (ML) in health care and clinical decision-making at an unprecedented pace.
The in vitro diagnostics (IVD) laboratory stands at the center of clinical decision-making, because of its role in data generation. A recent study on the awareness of AI in the U.S. clinical laboratory, conducted by the IQVIA™ BBC IVD Solutions team, showed that most laboratory professionals have already seen some advances driven by AI in their laboratory. As a result, they expect dramatic changes within the next two to five years in both the laboratory landscape and their routine workflow.
The IQVIA team spoke to 87 U.S. based laboratories across the core microbiology, molecular and pathology settings to understand the needs, concerns and expectations of IVD manufacturers as advances in AI and ML disrupt their current processes.
Combatting concerns and building potential
Uncertainties, including reliability, timing, patient safety and financing, remain around the feasibility of implementation and oversight of AI solutions. In the IQVIA survey, noticeable numbers of respondents were hesitant to be an early adopter of AI/ML applications focused on clinical decision. In contrast, just under 60% of participants had little to no concern pertaining to the potential implications of AI/ML. Rather, they saw AI as the next step in the evolution of laboratory technology that could reduce human error and provide objective guidance on optimal patient therapy.
On average, 87% of participants predicted that AI could have a somewhat dramatic to very dramatic impact on current diagnostic testing processes. Cost savings emerged as the most influential factor supporting the adoption of AI applications, primarily as a byproduct of reducing or replacing human labor.
Still, significant concerns exist over quality, the potential for medical errors, misdiagnosis, gaps in training of AI users, and the reliability of the AI results (e.g., "black box"). In addition, electronic medical record (EMR) and electronic health record (EHR) systems were cited as not advanced enough to deal with AI at the moment. Respondents also named upfront costs as the primary inhibitor for adoption. These included the price of the applications themselves, as well as the significant investment needed in initial training and service costs. Other important constraints included concerns surrounding FDA/regulatory approval, data security, patient safety concerns and confusion around reimbursement.
Healthcare professionals (HCPs) cannot ignore the possibilities that come with AI-based solutions. Nearly 50% of survey participants cited operational efficiency as the area of greatest immediate potential for AI applications. Within the walls of the laboratory, operational efficiency means faster turnaround time for tests, automating repetitive tasks, improving diagnostic test utilization, etc. Other major areas of potential cited included clinical decision support and standardization of care. Tool advancements in the area of reflex testing, error detection and imaging analysis were considered the most easily achievable tasks.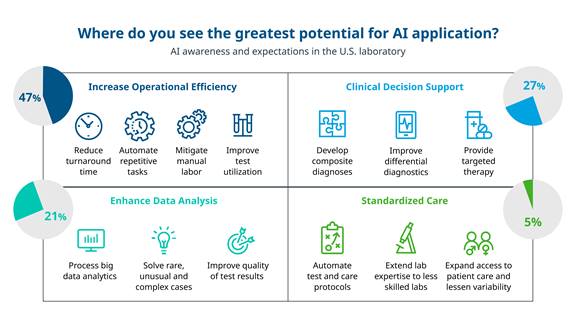 Implications
Nobody questions that AI will completely change and disrupt the current workflow in the laboratory, patient diagnosis and treatment, as well as the role of the key stakeholders: HCPs, laboratory staff and IVD manufacturers. The questions that remain for laboratories are:
How do we get from A to Z without putting patients at risk?
Who owns the data?
How do we control the data and the output?
How will this be regulated?
How is it going to be paid for and reimbursed?
Laboratories have high expectations of their future relationship with IVD manufacturers and their role in bringing the implementation of AI/ML tools in the laboratory to fruition. For the IVD manufacturer this has significant implications. It will mean a completely new spectrum of responsibilities and stakeholders, and will require evolution of portfolios and services. As clinical utility needs to be demonstrated through outcomes data to drive adoption of any tool, access to real world evidence and patient data will be key moving forward.
AI also has the potential to finally address the shortage of laboratory staff/technicians that has plagued the field for years. Technology advancements have already begun to lead to the creation of new roles in data and IT (e.g., bioinformatics) for the application's upkeep and analytics. From a disease state perspective, respondents called out the opportunity to figure out more about complex conditions like cancer through clinical trial matching, and infectious disease through outbreak surveillance and prediction. By automating tasks and processing more data, AI will empower HCPs to find more meaningful solutions to both basic and complicated issues in health care.
AI tools have the potential to advance patient care, disease management, prevention and treatment, at an unprecedented level. While news outlets continue to report seemingly anecdotal breakthroughs in today's research, laboratory professionals are not wondering if, but when and how AI will play a significant role in their workflow.
To learn more about the findings of the "Artificial Intelligence Awareness and Expectations in the U.S. Laboratory" study, please contact the IQVIA team.