Three key Success
As the life sciences world undergoes increasingly rapid digitization, sponsors are transforming their development processes to stay competitive. The next logical step is to conduct clinical studies virtually, delivering them directly to patients in the comfort of their own homes.
By easing the patient burden of traveling to sites for multiple visits and tests, removing geographic and logistical constraints to participation, and using electronic data capture and real-time information access, early adopter studies have demonstrated more rapid patient enrollment, higher retention, better data quality and overall faster cycle times.
Technology is the common denominator that underpins this emergent ability to successfully conduct virtual research. In these trials, virtual investigative teams connect with patients via smart, connected devices. In fact, all of the many stakeholders—patients at home or elsewhere, investigators and team members in clinical settings, home health nurses, and local health care providers (e.g. imaging specialists, lab professionals)—are supported via a robust technology platform to receive and house study documents, conduct analytics, communicate with other stakeholders, host tele-visits and coordinate study work flows.
Critical success factors for virtual trial technology
Bringing the entire clinical process online is a challenging feat requiring sophisticated orchestration of multiple interoperable elements. Over the past three years, technologies—including fit-for-clinical-purpose cloud computing, clinical-grade connected devices, robust teleconferencing, sensor data access, advanced analytics and integrated, secure platforms—have matured sufficiently to be configurable into a robust reliable solution (Figure 1). Such platforms, tools and devices are now near-foolproof, with data integrity ensured. However, they must be fully integrated to provide a seamless online experience with full connectivity for all participants.
Figure 1: Clinical transformation is enabled through digital orchestration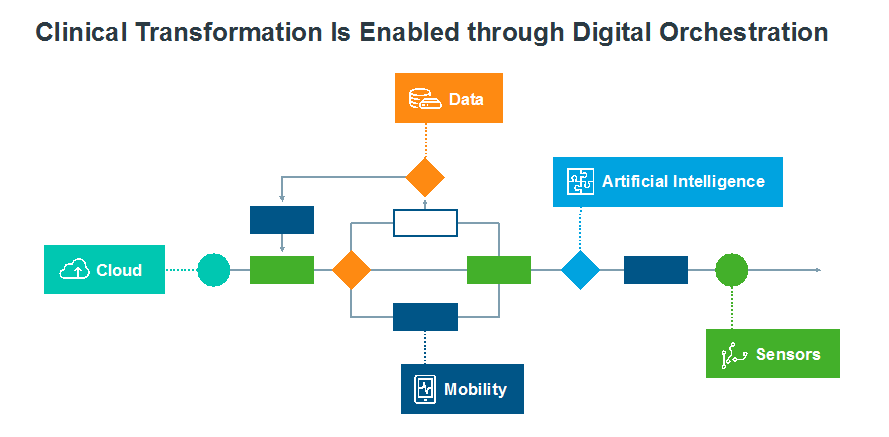 From recruitment and informed consent to monitoring endpoints and outcomes, virtual trials technologies share three key characteristics:
Consistently reliable performance excellence
User-centered design for simplified access and ease of use
High levels of integrity with robust intrusion detection
Reliability and performance excellence
Virtual trials extend far beyond simple data collection. They require a robust network of tools to support various engagement opportunities. For example, participants and stakeholders may use a videoconference tool similar to FaceTime, for meetings, smart connected devices such as tablets or smart phones for alerts and survey responses, and mobile health devices including blood pressure monitors and spirometers to automatically collect health measures from patients. This network of solutions enables the necessary quality and ease of communication, storage and transmission of data, and more streamlined work flow coordination and documentation.
Of necessity, these technologies must be robust, reliable, clinical-grade and consistently perform at the highest levels. Virtual trials platforms rely on cloud computing to provide scalability in terms of geographic dispersion, high performance tele-visits and more data points than with traditional trials. These platforms must be interoperable, connecting seamlessly with other virtual trials systems and devices as well as parts of the traditional trial ecosystem, such TMF or safety databases/event reporting to comply with pharmacovigilance regulations.
User-centered design
Virtual trial technology means designing for orchestration across a large number of data sets, workflows and participants. The platform and devices are used by patients and staff of all ages, educational and socio-economic levels and varying degrees of computer literacy, therefore they must be easy to use. Participants have no time or inclination toward a 50-page user's manual that tells you what to do next. The best technology for virtual trials is readily available, intuitive and reliable – much like modern consumer technology.
Best practices are applied to the design of this direct-to-patient technology. IQVIA's user-centric approach involves engaging users in developing the solution, and obtaining feedback from the earliest stages on usability, consistency, and ease of access.
The goal of these technology-enabled interactions is that the patient and investigator can build a similar relationship to the one that develops through in-person meetings, without hindrance. For example, once a patient is within the platform, he can access support easily via a 24/7 online chat function or phone call with a study concierge.
Oversight, Integrity and Security
Digital enablement also provides enhanced oversight and greater transparency, such as earlier soft signal detection for prompt actioning. Through more granular, continuous data feeds throughout the day versus point-in-time reads, blinded data and analysis yields greater insights and better understanding of patient status and behavior. For example, sensors on blister packs can send alerts when a patient fails to take medication, better supporting the patient and enhancing data integrity in conformance with the protocol. Scientists also have the option to tie contextual information, such as humidity index readings for respiratory studies, to the clinical trials data package to add context to the data collected.
Technology for virtual trials must be thoroughly validated and secure, providing the high levels of data integrity required for regulatory purposes. The study platform must ensure cybersecurity by authenticating the identity of multiple classes of users before allowing them to log in, using biometrics or multifactor approaches. In addition, all technology must involve robust, state-of-the-art intrusion detection.
Conclusion
Virtual trials offer broader patient reach for faster recruitment and higher retention along with greater efficiencies, enhanced data quality and overall faster cycle times. Technology underpins all aspects of virtual trials to ensure they are well orchestrated across all stakeholders and activities. This requires consistently high levels of system performance, ease of use and system integrity and security.
Virtual trials are not for every study, every patient or every indication. A thorough vetting of each opportunity is required to ensure best fit. The virtual approach is still emerging and will take time for widespread adoption, yet we anticipate rapid growth. For the near future, we envision that traditional and virtual studies will run in parallel.
IQVIA Virtual Trials is uniquely qualified to orchestrate the unique complexity of patient-centered virtual trials to accelerate the path to approval. Click here to learn more.