Are you ready to meet healthcare stakeholders' ever-increasing evidence demands?
Expanding use of RWE
Traditionally, Real-World Evidence (RWE) has had its place in satisfying post-launch regulatory requirements principally related to drug safety. RWE has since been expanding well beyond its beginnings in pharmacovigilance and has found widespread acceptance for a range of use cases with different healthcare stakeholders, including regulators, health technology assessment (HTA) bodies, payers and healthcare professionals (HCPs). Those stakeholders, initially sceptical and uncertain about the robustness of real-world data and the analytical methodologies used to derive RWE, now appreciate the value RWE brings in addressing their needs. This expansion has gone hand in hand with the digitisation of healthcare combined with innovation in technology and analytics.
The march of RWE has been relentless. Today, we find a wide range of use cases for RWE along the entire product lifecycle, spanning both the pre- and post-launch phase. Applications of RWE have also moved downstream from their original regulatory focus, to address the specific needs of different healthcare stakeholders, including payers and HCPs (see exhibit 1).
Exhibit 1:
Stakeholder use case landscape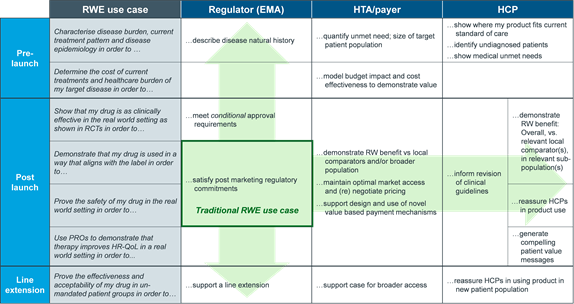 RWE has come of age and is here to stay. As healthcare stakeholders increasingly accept, and indeed expect, RWE as part of the information to guide their decisions, it is imperative for pharmaceutical companies to embrace RWE strategically in evidence planning, generation and communication.
By approaching RWE in a smart way and investing wisely, pharmaceutical companies can contain incremental spend requirements as they realise extensive efficiencies and synergies, while driving substantial returns from their RWE investments.
Download our full analysis of the expanding use of RWE here.
Additional Contributors
Dony Patel, Associate Principal, IQVIA