The proliferation of contact points among multiple stakeholders within the pharmaceutical industry has created an unprecedented demand for a clear and consistent message.
In Europe, the number of real-world contacts between the pharmaceutical industry and healthcare professionals (HCPs) has fallen by almost a quarter in the last five years. Each contact becomes more valuable as access to professionals becomes increasingly restricted. It is therefore imperative to maximize the impact of every HCP interaction.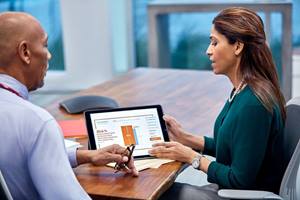 This increasing restriction, combined with The General Data Protection Regulation (GDPR), designed to protect EU citizens'
data privacy—along with additional data transparency initiatives—creates a demand for a system that can provide mechanisms to capture, store and manage HCP data to ensure that the most efficient contacts take place, while simultaneously proving compliance to GDPR.
Similarly, compliance regulations are becoming stricter every day, requiring marketing authorization holders (MAHs) to have a much higher control on product/substance information. For example, IDMP is reinforcing the requirements for information to be submitted to authorities whenever exchanging information with the authorities (market authorization, adverse event reporting, etc.). These regulations require MAHs to collect a heavily increased amount of details that are spread across several systems, adopting standards for data structure, referential, coding, etc., that are often mandated by the authorities, which—given their magnitude—can only be achieved with a proper technology.
Staying ahead of the data while staying compliant
In order to avoid wasted or misapplied contacts to customers, and to meet legal requirements for compliance and regulatory while ensuring access to information, it is essential to have a consistent, complete, accurate version of master data that is quickly and accurately distributable.
Having such a system, critically linking all data into a master file that updates data in real time, effectively streamlines data exchange among all parties within the pharmaceutical industry. This makes it possible for pharma personnel to efficiently connect with the HCPs, patients and other stakeholders they need to reach, like never before, without redundancy and with full confidence in the accuracy of the information.
When it comes to pharma interactions with stakeholders, not only does the personal information of the involved parties need to be complete and cleaned, but the product information as well, as this is vital to accelerating patent approval and avoiding off-label promotion or wrong territory and channel promotion.
Having consistent and complete information about customers, payers, products and organizations, and being able to correlate this information correctly, enables a 360-degree view of integrated master data, and is key to supporting the go-to-market strategy of pharma companies.
IQVIA provides to the market a master data management solution including a predefined customer data and product model, compatible with key customer and product data sources, that offers the highest level of flexibility and extensibility to allow accommodation of IQVIA's own data sources as well as client and third-party data sources. This solution comes with a pre-loaded, rich set of referential, cleansed and standardized data from IQVIA's data sources.
Capturing data that resides in multiple places
The beauty of MDM is the ability to link and connect information across disparate data sets, breaking the typical silos that naturally are built up between different divisions and business areas of any organization, supporting collaboration and sharing. The more efficient the MDM solution, the more effectively and in synergy the organization runs.
The ability to cross reference—integrating, cleaning and refining the data, as well as maintaining it as it is updated—is the key to a robust MDM solution and it is only possible when there are no limitations in the information that can be stored, (i.e., "not frozen" data model), and in the systems that can be integrated as source or consumer.
The IQVIA MDM solution relies on an open data structure and a robust connectivity capability to link potentially any system within the client organization. For example, the IQVIA MDM solution provides connectors to leading industry CRM systems and is continually updated and expanded to include other sources. All data is connected to reference data and the IQVIA technology suite, and is integrated with the IQVIA commercial data warehouse, eliminating the challenge of redundant or irrelevant data.
Learn how IQVIA Enterprise Information Management solutions can help your organization develop a robust master data management strategy for successful engagement among all stakeholders.