​Anand Tharmaratnam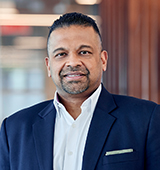 Dr. Anand Tharmaratnam, president, Asia Pacific at IQVIA, is responsible for the research and development businesses across the region, excluding Japan, and for the commercial businesses in Australia, Greater China, South Korea and Southeast Asia.

Anand joined Quintiles in London in 1997 and, over the next seven years, held positions of increasing responsibility in Europe, India and Japan. In 2004, Anand moved to Singapore and was appointed chief executive officer of Southeast Asia, Taiwan and South Korea. He subsequently took responsibility for all Quintiles businesses in Asia Pacific and most recently served as president and head of Quintiles Asia Pacific.

Anand earned his medical degree (MBBS) from University College London, UK. He also is a member of the Royal College of Anesthetists, UK, (MRCA) and serves on the Board and Executive Committee of the National Medical Research Council of Singapore.