Michael McDonnell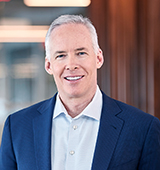 Mike McDonnell is executive vice president and chief financial officer for IQVIA. He directs all finance operations for the Human Data Science Company that was created following the merger of Quintiles and IMS Health. This includes corporate accounting, financial planning and analysis, internal audit, tax, treasury, investor relations, corporate development, insurance, and the real estate and procurement functions.
Mike joined Quintiles in 2015 and previously served for seven years as CFO at Intelsat, a leading global satellite service provider. Before that, he was CFO at both MCG Capital Corporation and EchoStar Communications (DishNetwork). Earlier in his career, he was a partner at PricewaterhouseCoopers, LLP. Mike also served as a member of the board of directors of Catalyst Health Solutions, Inc., a publicly held pharmacy benefits management company.
Mike earned a bachelor's degree in accounting from Georgetown University and is a certified public accountant.