Kevin Knightly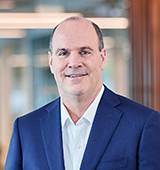 Kevin Knightly is president, Technology & Commercial Solutions for IQVIA, responsible for the growth of the company's information assets, delivery of innovative offerings for commercial operations, and development of leading-edge database management, patient engagement and end-user technology solutions.
Kevin previously served as senior vice president, Information Offerings at IMS Health from April 2015 to September 2016, driving the delivery of precision insights for market and performance measurement. With more than two decades of service at IMS Health and its predecessor companies, Kevin has held a variety of senior financial, operations, marketing and general management posts. His roles include serving as senior vice president, Supply Management, senior vice president, Pharma Business Management, and president, Europe, Middle East and Africa. Kevin also was chief financial officer for both IMS Health North America and Europe, and senior vice president, Marketing and Major Markets, EMEA.
Kevin holds a bachelor of science degree in Economics and Accounting from the College of the Holy Cross, and an MBA from New York University's Stern Business School.