While the pharma market is predicted to grow steadily over the next five years we see some common opportunities and challenges across different markets. There are a number of initiatives to improve access to innovative products while payers continue looking at ways to contain costs. In this review we look at some of the key trends and events impacting the major pharma markets in the next five years.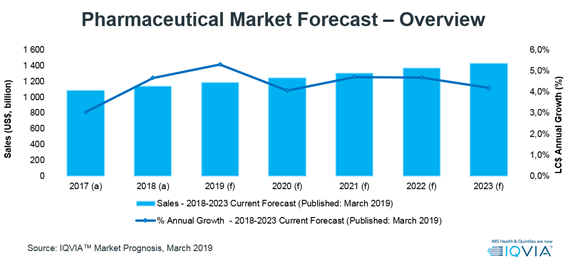 USA recovery driven by innovative products
The largest pharmaceutical market, the US, recovered substantially in 2018, driven principally by the number of innovative novel products approved over the year. Most of these new product launches benefited from expedited regulatory pathways that recognized innovation and unmet clinical needs. The US market is expected to strengthen further in 2019; however, price pressures will increase with both the Trump administration's "Blueprint to Lower Drug Prices and Reduce Out-of-Pocket Costs" and other pricing related bills being introduced in the Senate - all looking at ways to moderate prices. The HHS and the FDA are also making concerted efforts to boost market access for generics in a bid to increase competition and achieve lower prices. In addition, support for the generics market, in the form of new LOE opportunities, will be considerably higher in 2020.
Strong pricing pressures, but improving access in China
In the second largest market, China, pressure on the prices of both innovative new drugs and patent-expired molecules will increase, limiting overall market growth rates. While demand will remain strong, consolidated volume-based tendering will drive down procurement prices for patent-expired molecules for which generics; that have passed quality consistency evaluation, are available. Market access for innovative new drugs will improve, although originators will be required to make major concessions on price in return for reimbursement access. Reforms to the drug approval process have begun to reduce lengthy registration times, allowing new drugs to reach the market faster, reducing China's drug launch lag relative to other international markets. The reforms have also encouraged a sharp rise in the number of innovative new drug submissions, with a record 48 new drug approvals reported in 2018.
Macroeconomic factors in LATAM underpin growth prospects
The positive macro-economic outlook and political climate in Brazil, supported by market-friendly reforms, will boost growth in the short-to-medium term. In contrast, the growth outlook in Mexico will become more challenging under its new president.
An improving economy in Brazil underpins the positive outlook for the 2019 -2023 period, with rising employment levels supporting further growth of the private healthcare market. The role of OTC as a contributor to cost-containment is gradually gaining traction along with the continued rise of generic volume sales as consumers have not only become more price-sensitive after the recession, but also less loyal to brands. Although lengthy delays in the completion of HTA and final reimbursement decisions have limited the rate of uptake of innovative drugs until now, the recent announcement by the MoH to adopt a new risk-sharing agreement model for the purchase of high-cost-medicines will transform the process and accelerate up-take of innovative drugs.
In Mexico, the uncertainty surrounding the new government's policies will depress consumer confidence in the short term. However, this is expected to be followed by economic recovery from 2021. The multiplication of physicians at the point of sale will continue to propel the consumption of medicines due to the ease in access to medical consultations and prescription medicines. However, rampant competition and a degree of consolidation of pharmacy chains over the next five years will place downward pressure on drug prices.
Japan commercial prospects dampened by drug pricing policy
Pricing reforms and rising generic usage will rule out growth in the overall value of the Japanese pharmaceutical market, which is expected to decline in the five years to 2023. While the government will take steps to encourage innovation, restrictions in access to price maintenance premiums and adoption of cost-effectiveness assessment will curb introductory NHI prices for patented drugs, thereby depressing earnings posted by the industry's leading innovators. Enforcement of G1/G2 pricing rule, imposition of 'one-off' price cuts to account for consumption tax hike - to be implemented in October 2019 - as well as 'off-year' price reviews will ramp up pressure on sales growth of long-listed products and generics.
Investment plans may be revisited; cost-cutting initiatives – including headcount reductions – will be stepped up; portfolios will be restructured; and a new round of local industry consolidation could be witnessed.
EU5 markets focus on access to innovation
While growth will remain steady in the EU5 markets, key priorities for governments over the forecast period will be price control initiatives and measures to improve patient access. In Germany the launch of new drugs will drive market growth, with at least 30 launches expected in 2019. However, the use of early benefit assessments and unpredictable outcomes of price negotiations remain an issue for manufacturers of innovative drugs. Proposals in the GSAV law (due to be implemented in July 2019) contain amongst other measures: provisions for adjusting orphan drug prices, a clause guaranteeing an adequate uninterrupted supply of the drugs and measures to increase uptake of biosimilars. France is also introducing measures to improve biosimilar uptake, aiming to achieve 80% penetration rates by 2022. The National Health Strategy 2018-2022 also aims to improve the detection and treatment of several cancers and calls for programs and measures to address other chronic diseases. In Spain, price controls as a means to curb pharmaceutical spend will be ramped up over the forecast period. In Italy, the long-awaited new pharmaceutical governance strategy (published in December 2018) outlines measures to address issues affecting the underfunded healthcare system and is expected to help contain drug costs while improving patient access to new drugs. In the UK steps have also been taken to expedite patient access to new medicines through initiatives such as the Accelerated Access Collaborative, and reforms to the Cancer Drug Fund. The new voluntary pricing system for branded medicines, effective in January 2019, also aims to accelerate and extend the uptake of new medicines.
However, moves to improve access to new medicines in all markets will be increasingly linked with pricing/risk-sharing arrangements. With the uncertainty about Brexit continuing, associations representing the European and British Life Science Industry have warned about the challenges across a range of business areas.
Conclusion
Overall, slower growth in the prognosis period in the majority of countries will be primarily driven by the increasing cost-containment measures adopted by payers. However, improving access to innovative medicines to respond to unmet clinical needs will be high on the health agenda.
* Market Prognosis reports cover 49 markets, which account for around 95% of the global pharmaceutical market. Growth figure excludes Venezuela.
Source: IQVIA™ Market Prognosis reports 2019-2023