Supporting development through the cardiovascular medical device pathway
Heart disease is now the leading cause of death worldwide. While advancements in this area can be challenging, with the right partner you can successfully advance your product across every milestone.
Partnering with cardiovascular device innovators
IQVIA™ is an industry leader in research across cardiology, including cardiovascular and peripheral vascular disease. From advanced materials to regenerative medicine, our experts have the experience you need in a partner for strategic regulatory consulting and clinical trials.
Our cardiovascular research solutions cover products ranging from traditional stents and balloons, to drug-eluting, and electrically active implantable devices. We leverage our experience to generate cardiovascular specialty center interest, recruit patients, and successfully submit to regulatory agencies.
IQVIA cardiovascular MedTech experience and expertise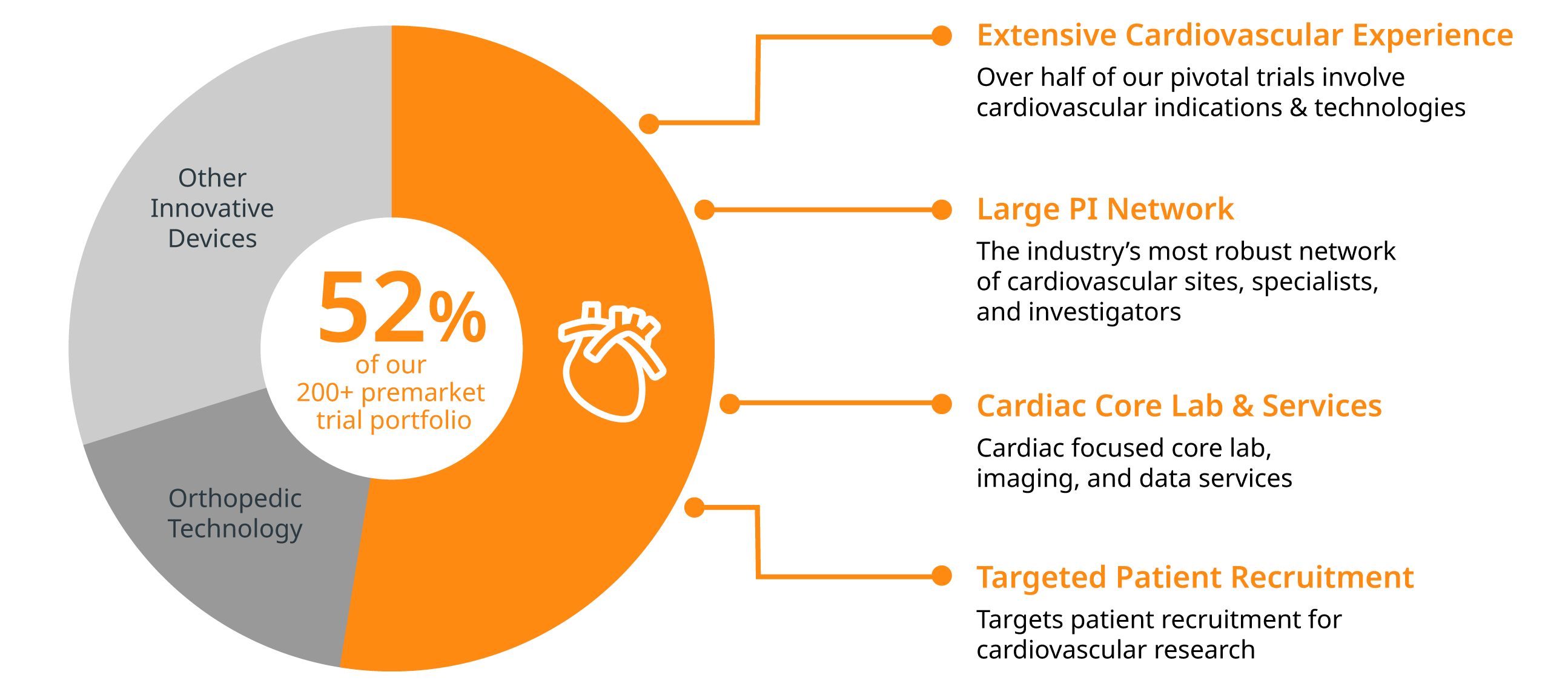 Why partner with IQVIA MedTech Clinical Solutions?
Optimized for cardiovascular clinical trials
As a leading global provider of cardiovascular trials, our extensive experience ensures that cardiovascular research trials are optimized. We leverage our vast network of cardiologists, cardiovascular surgeons, cath lab professionals, and dedicated cardiovascular operational staff.
Speed and efficiency of market access
Cardiovascular devices involve a blend of engineering and science, and adhere to specific regulations and standards. Our experts support you from clinical development strategy to pre-market device trials and submissions through post market surveillance studies, enabling rapid and efficient market access and on-market support.


Maximize your data
Cardiovascular research relies on data. Our partners benefit from focused cardiovascular core lab and imaging service offerings, relationships with registries and academic data, and a world-class library of feasibility data to support site selection and trial execution.


Blending engineering and research expertise
Device research for cardiovascular applications requires the right blend of engineering and science. Our cardiovascular device team consists of clinical experts that have extensive experience in describing materials, molecular agents, and biomechanisms of cardiovascular devices. Our partners benefit from transparent and high-quality communications with regulatory agencies and research partners.


Support when and where you need it
Whether you need help with designing the optimum clinical development pathway, or executing a pivotal trial, our team has the know-how to match every challenge you face with an effective solution.
Talk to a cardiovascular device expert in our MedTech Clinical Solutions team about how we can help you find your path to success.
Global Cardiovascular Medical Device Rescue Trial
Find out how we successfully rescued a clinical trial in progress in nearly 20 countries, for a global cardiovascular medical device company.
References: Cardiovascular disease (CVD) is the leading cause of death worldwide according to the World Health Organization - https://www.who.int/news-room/fact-sheets/detail/cardiovascular-diseases-(cvds)