In Vitro Diagnostics Trials
Driving innovation forward: in vitro diagnostics trials
The development of in vitro diagnostics (IVD), vital for diagnosis and treatment, involves specialized clinical trials that generate complex data. You need a partner that can help you navigate the clinical trial and regulatory process.
Advancements founded on performance
IQVIA™ understands the unique clinical trial landscape of IVD. We partner with you at each stage of clinical development to navigate the clinical trial and regulatory process, from product concept to market.
Our IVD experts help you ensure the quality, safety, and performance of IVD devices by seamlessly navigating local laws, regulations, and standards. This includes design and execution of clinical studies and the regulatory process.
We apply our IVD regulatory expertise across a portfolio of assays, reagents, and instruments. Our testing protocols ensure accuracy and precision of these devices, whether used in the field or the clinic.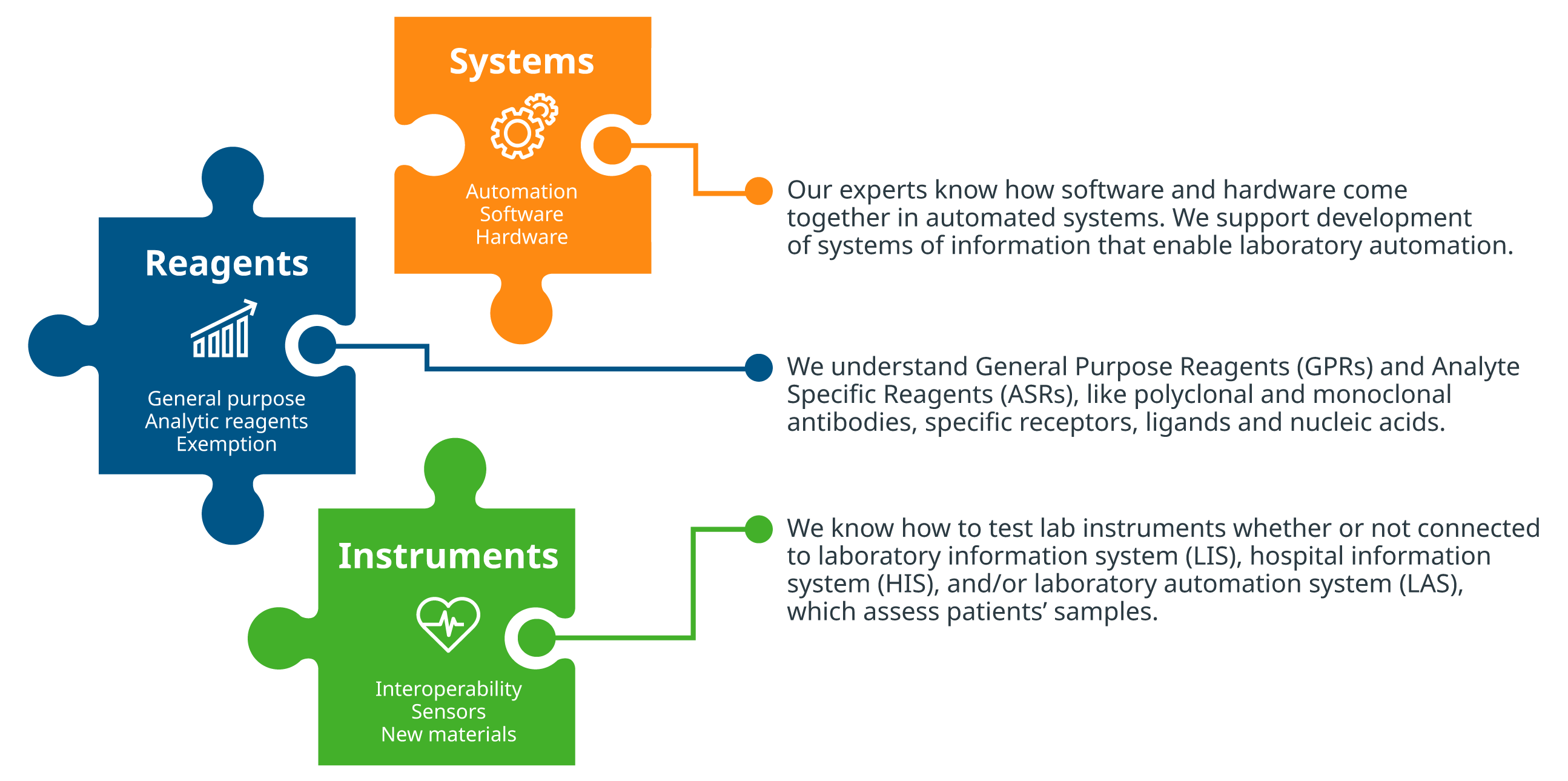 Industry experts in IVD technologies
IQVIA provides end-to-end solutions for IVD innovators. Our leadership in market assessment, central lab services, and full-service CRO support makes us a complete end-to-end partner.
Boston Biomedical Consulting (BBC)
BBC is IQVIA's exclusive group encompassing 40-years' sole focus on IVD. We provide you strategic industry analysis of the highest quality.
Q² Solutions
Q2 Solutions, an IQVIA company, is the second largest clinical laboratory services provider worldwide, offering a full suite of genomic, bioanalytical, biomarker, precision medicine, and companion diagnostics services.
Benefits for our IVD partners
Experts in the IVD regulatory process
Using our experience in successful IVD submissions, we guide you on the most effective and efficient regulatory path. We can help you:
design and execute studies required to demonstrate safety and effectiveness

identify surrogate endpoints and establish the device performance (clinical sensitivity and specificity or agreement)

determine relationships between identified endpoints in corollary studies using randomly collected clinical studies

navigate the FDA review process, including PMA and 510(k) filing

reduce costs and timelines to strategically bring your product to market
CLIA expertise
For some IVD products, clearance or approval is just the start. If your product is a high or moderate complexity device, you may need a CLIA Waiver by Application (CW). Our IVD regulatory experts can assist you with preparing the CW evidence to demonstrate that a test meets the CLIA statutory criteria for waiver.
We take a strategic approach to helping you meet CLIA requirements. CLIA waivers can be submitted separately or with your initial application, increasing speed to market.
Clinical operations excellence
We have first-hand experience in the design, development, validation, and management of IVD clinical trials.
Our vast physician and site network were developed through years of IVD and device trials. It allows us to tap into a wide array of patient populations key to enrollment success. We have established capacity for accurate, large-volume specimen collections for IVD studies.
We provide best-in-class sample collection, handling, and chain-of-custody services to support IVD trials.
Data and test methods expertise
Data is at the heart of IVD research. We offer expertise in numerous test methods and analytical approaches for both qualitative diagnostic tests and quantitative diagnostic assays. When the gold standard is not clear, we can help you work with scientific experts and agency reviewers to agree on a path forward, tailored to your product.
Talk to an IVD expert about how we can partner with you to achieve IVD success.