About
You are invested in your product and committed to addressing unmet medical needs and advancing human health. We are invested in a new way of harnessing advances in technology, analytics and human ingenuity, enabling us to provide solutions that can help you advance your product and confidently deliver credible results.
Stop by the IQVIA booth (#72a) to speak with our various subject matter experts about how we could support your next step forward, from defining the plan for your asset, to trial implementation, through launch and commercialization.
The 23rd annual BIO-Europe is Europe's largest partnering conference serving the global biotechnology industry. The conference annually attracts leading dealmakers from biotech, pharma and finance along with the most exciting emerging companies.
Don't miss the opportunity to hear from our experts:
Stella Blackburn Vice President, Global Head of Early Access & Risk Management, RWES
The Evolving Role of Real World Evidence in Regulatory Approval and Reimbursement Decisions
Panelists discuss how real world data is impacting clinical development today. This session will identify the groups in the development process that demand real world evidence, what they are looking for and the considerations that companies need to plan for in order to ensure effective implementation of data
The Big Data promise for emerging biopharma
Panel Discussion: Emerging biopharma companies face new opportunities to create value in an asset in their scientific programs and commercialization planning due to the growing amounts of available digital information. Translating this promise into tangible improvements—securing funding, planning and executing clinical trials and product launch, exploring deal options and strategic arrangements—and delivering on lower risk, increased efficiency, and high program value, remains a daunting challenge for most. This panel will discuss approaches that are already available to bring the big data promise to emerging biopharma companies seeking to advance the value of their asset from clinical development, to exit, or commercialization. Insights will be shared from the perspectives of investors, emerging biopharma managers, clinical study experts and practitioners skilled in the development and application of real world insight to life science companies. The panel will provide guidance on the areas of promise, the pitfalls to avoid, and the rewards that can be expected for emerging biopharma.
Speaker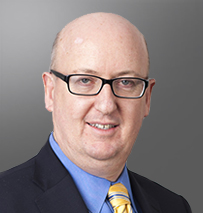 ​Senior Vice President and Executive Director