​Murray Aitken
​Senior Vice President and Executive Director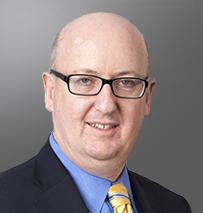 Murray Aitken is a senior vice president at IQVIA and the executive director of the IQVIA Institute for Human Data Science. Aitken is a renowned healthcare expert on addressing the challenges facing the global healthcare industry and prospects for improving patient outcomes, managing costs and maximizing access through better use of healthcare data and information.
Throughout his 15-year tenure at IMS Health and QuintilesIMS, Aitken served in various roles responsible for healthcare insights, corporate strategy, and consulting and services. Prior, Aitken was a partner at McKinsey & Company in New Jersey and Los Angeles in the U.S. and in Seoul, South Korea, covering a broad range of industries, including life sciences and consumer goods.
He holds an MBA, with distinction, from Harvard University and Masters of Commerce from the University of Auckland in New Zealand.
A frequent speaker on the international healthcare industry circuit, Aitken's perspectives are widely covered in the business/financial press, including The Wall Street Journal, The Financial Times, Fortune, Time, The Associated Press, Bloomberg Business, Reuters, CNBC as well as in local market publications across Europe, Asia and Latin America.