About the Report
Over the past decade, there has been a paradigm shift in the treatment of cancer, driven by advances in personalized medicine and immuno-oncology. In this report, we share our perspective on some of the trends observed in 2016, including impact on cancer outcomes, the redefinition of many cancers, availability and costs of oncology therapeutics and complexity in cancer treatments.
Summary
Cancer continues to be one of the leading causes of morbidity and mortality worldwide, but therapeutic innovation based on improved understanding of disease biology and translational research have considerably changed the treatment paradigm for many cancers. From 2011 to 2016, 68 new drugs have been approved for 22 indications. Personalized oncology medicines, targeted agents and novel immunotherapy agents can provide substantial clinical benefit and have raised the hope of significantly improving cancer survival across a large number of tumor types.
Oncology continues to be an area of active interest with a robust pipeline of over 600 molecules in late stage development of which 90% is a targeted therapy. At the same time, newer treatment options, including biomarker-based patient segmentation and availability of biomarker-based treatment approaches, have added to treatment complexity. Novel oncology treatments are reaching physicians faster than ever, but the availability of newly launched agents differs substantially by geography.
Global costs of oncology therapeutics and supportive care drugs increased from $91Bn in 2012 to $113Bn in 2016, with the United States accounting for 46% of the total global oncology costs. Longer duration of therapy with novel agents, use of combination therapies with high cost novel agents and the possibility of patients receiving multiple lines of therapies are factors likely to contribute to further increase in costs. Uptake of newer agents and increasing use of older branded drugs are the contributing factors for increase in costs in other regions.
Key Findings
The Cancer Treatment Landscape Has Been Transformed Since 2011 by New Medicines Targeting 22 Different Cancer Types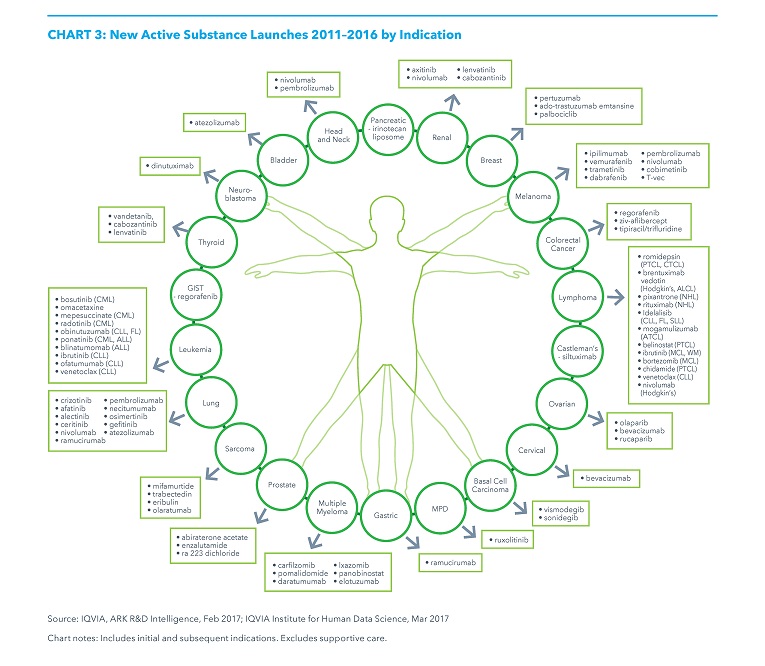 From 2011 to 2016, 68 different agents have been approved for 22 indications, with many being approved for more than one indication.
Many of these new agents are also being evaluated in other tumor types and will likely be approved for subsequent indications, providing therapeutic options to additional patients.
Of over 20 countries included in the analysis, more than half of the agents that launched from 2011-2015 were from eight countries indicating that access for novel oncology therapies is a continuing problem even in developed countries.
Over the Last 20 Years, Therapy Options for Multiple Tumor Types Have Increased Adding to Treatment Complexity
Treatment options have increased over the last 20 years, both in terms of diverse mechanisms of actions as well as the number of drugs for each mechanism of action class.
The median time from patent filing to FDA approval for oncology medicines has dropped from 10.25 years in 2013 to 9.8 years in 2016, primarily through "pulling forward" late stage drugs and approving them sooner.
Treatment complexity will increase as time between launches is reduced and novel agents offer incremental efficacy gains.
Total Global Costs of Oncology and Supportive Care Therapies Increased to $113 Billion in 2016 at a Rate Of 11.6%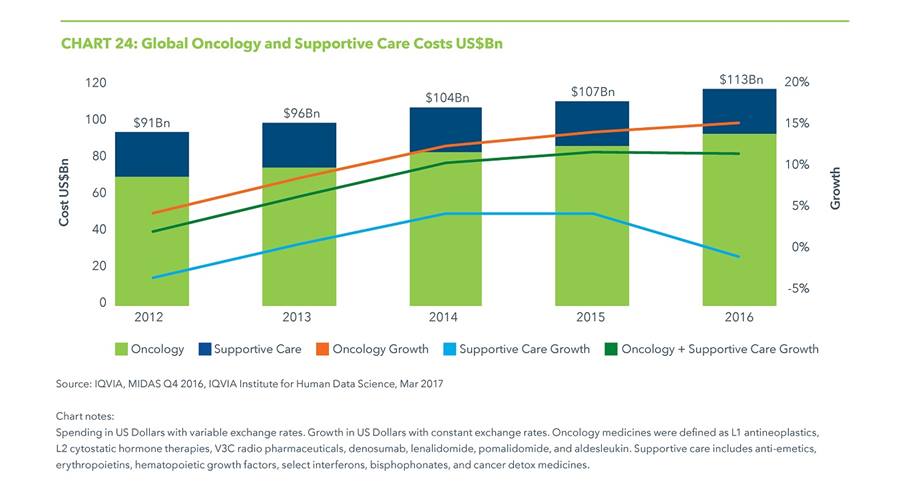 Total global oncology and supportive care costs reached $113Bn in 2016.
The cost of oncology medicines increased at a compound annual growth rate (CAGR) of 11.0% since 2011, while the cost of supportive care treatments increased at CAGR of 2.0% in 2016.
The increase in global costs for oncology and supportive care medicines is related to an increase in the number of approved therapies and corresponding higher costs of novel agents. Targeted therapies also contribute to increasing oncology costs. This is particularly true in the United States, where 37 new oncology medicines were launched from 2011–2015.