Manager Machine Learning ACOE
Nurlanbek, Manager Machine Learning ACOE (Analytics Center of Excellence)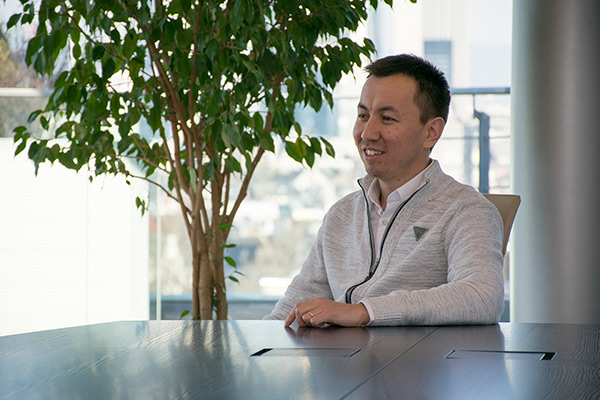 What was the application process / procedure like?
I came across the job ad on LinkedIn. I had two interviews over the phone, a general one and a rather technical one, followed by a face-to-face interview in Frankfurt office. The whole process took about 2 months. The global HR team from London kept me posted about the timeline and any relevant updates at all time during this process.
Why did you apply for this job?
I was looking for a rather technical data scientist/machine learning engineer position. In addition to IQVIA™, I was talking to several other companies including big consulting companies such as McKinsey and Deloitte. But the position at IQVIA stood out from others. It was exclusively focused on the healthcare domain which is enjoying revolutionary advancements thanks to artificial intelligence. My current position provides an opportunity to be part of this revolution and create innovative solutions for the benefit of human welfare.
In addition most of our projects are rather long-term. This provides sense of ownership, which is very important for people with academic background, and a chance to really understand the problem, to experiment with various ideas and implement the best solution.
What is a typical workday like for you?
We work in teams of four to eight people. We work in project-based teams in an agile fashion. At the moment I am staffed on a research project which means I spend a lot of time experimenting with various machine learning approaches and reading recent publications on platforms such as arxiv.org. We also have frequent team calls/meetings to understand the question, formulate and discuss various data sources, algorithms and evaluation metrics. We also have weekly/biweekly meetings to sync up and share learning with other teams in the department.
What is the great thing about your job?
In my department, at ACOE, we promote flat hierarchy and cross communication. This is very important as many good insights come from people who have hands on experience. Our leadership recognizes this and have setup an "idea wall" where any team member can share and push their ideas to various problems in our domain. And those problems that we try to solve are both technically challenging and in my opinion they are very meaningful. These are very important components as they motivate me to ask myself "how can I make it better?" and learn something new every day.
What are the main challenges in your function?
Data science problems rarely come as clear classification or regression problems with enough training data. One of the main challenges in my job is to recognize and reformulate a given business problem as a data science problem which will allow me to optimize it using standard machine learning techniques.
Another challenge is planning the data science projects. If software development is like building a bridge, where there is a clear roadmap to follow, data science projects are more like finding a cure for rare diseases – you may never find the solution that works with required accuracy. Some of the projects I work on are solely research projects and as a Machine Learning researcher, the biggest challenge is communicating the uncertainties and risks to the business stakeholders in the planning phase of the project.
What's your team like?
We have two types of teams, so to speak: office teammates with whom I share an office and project teammates with whom I work on the same project. Both kinds of teams are highly international and multicultural.
Why does IQVIA™ go well with you?
Artificial Intelligence (AI) offers a huge potential to revolutionize otherwise costly healthcare industry. IQVIA is well aware of it. Recently we are rebranded into a "human data science" company to really put focus on data science and AI-driven projects to widen and optimize our existing solutions and innovate new offerings. I find it fulfilling to be part of this innovation.
How was your onboarding experience?
I found pharma industry to be highly complicated and this is also reflected in our company organization. But we have well established orientation programs, personal mentorship programs and regularly organized standardized trainings for data products and internal tech architecture.
What is the difference between IQVIA™ and your former employers?
I come from a consulting company. Two things I didn't like there were lack of industry focus and high employee turn-over. At IQVIA it is easy to find an experiences subject matter expert (SME) for any specific area of pharma industry.
What is your advice for candidates applying for this or a similar job in your section / working environment?
I think there are three factors all candidates should consider in machine learning jobs: management, environment and data. We have a management who understands the data science language and the limits / benefits of a data science project. Our environment is competitive to top AI companies in the world. And we are market leader in healthcare data.