​Hossam Sadek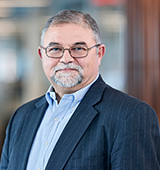 Hossam Sadek is president, United States & Canada, responsible for IQVIA operations in those countries.
Previously, Hossam served as IMS Health's president, U.S., from April 2015 to September 2016. He also was vice president, Global Supplier Services, where he led the development and commercialization of IMS Health's global services portfolio for the retail pharmacy and wholesalers market. Earlier, Hossam was general manager, Business Line Management, Americas, responsible for driving new engagements, deploying innovative offerings and identifying business development opportunities. He has held key sales force effectiveness roles in the U.S., and account management and marketing positions with IMS Health in Canada.
Hossam holds a bachelor's degree in Pharmacy from Cairo University, and an MBA and master's degree in Pharmaceutical Marketing from Long Island University.