​Elisabeth Beck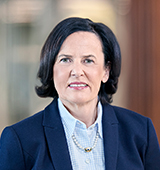 Elisabeth Beck is president, Central, East & South Europe, responsible for IQVIA operations in that region. She served in the same capacity at IMS Health since April 2015.
Prior to that role, Elisabeth was IMS Health's president, East Europe for four years. Before that, she led the company's Central & East Europe operations, including Germany and Switzerland. She served as general manager, Germany from 2001 to 2009. Earlier, Elisabeth was general manager, Switzerland for four years, driving the company's joint venture with GfK-IHA, a leading Switzerland-based consumer research company. With more than three decades of service, Elisabeth has held leadership roles in business development, sales and marketing, and Consumer Health services.
Elisabeth holds a bachelor's degree in Engineering and a master's degree in Agricultural Economics degrees from the University of Bonn in Germany.