José Luis Fernández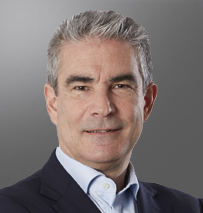 José Luis Fernández is president, Global Services for IQVIA, responsible for the company's consulting and commercial services activities worldwide, including advanced analytics, primary intelligence, commercial outsourced solutions and offshore services delivery.
José Luis previously served as senior vice president, Global Services for IMS Health, a role he assumed in January 2014. With more than two decades of experience in the pharmaceutical sector, José Luis has held leadership roles in country and regional management, consulting, sales and services. Prior to his current position, he was responsible for IMS Health's South Europe & Middle East operations. From 2008 to 2010, José Luis served as general manager of IMS Health's consulting and services business in EMEA, and prior to that was general manager of the company's EMEA mid-size markets and Spain operations.
Before joining IMS Health, José Luis held a variety of sales, marketing and commercial effectiveness roles with AstraZeneca in Europe. He began his career at Accenture as a management consultant focused on commercial strategy for the pharmaceutical, consumer goods and auto sectors.
José Luis holds an advanced degree in Industrial Engineering from Madrid Polytechnic University.